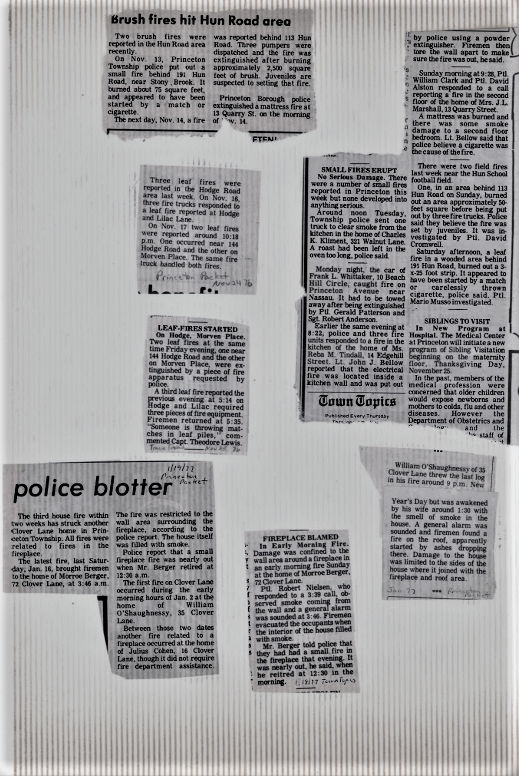 (clockwise from top)
Article 1:
Brush fires hit Hun Road area
Two brush fires were reported in the Hun Road area recently.
On Nov. 13, Princeton Township police put out a small fire behind 191 Hun Road, near Stony Brook. It burned about 75 square feet, and appeared to have been started by a match or cigarette. The next day, Nov. 14, a fire was reported behind 113 Hun Road. Three pumpers were dispatched and the fire was extinguished after burning approximately 2,500 square feet of brush. Juveniles are suspected to setting that fire.
Princeton Borough police extinguished a mattress fire at 13 Quarry St. on the morning of Nov. 14.
---
Article 2:
Three leaf fires were reported in the Hodge Road area last week. On Nov. 16, three fire trucks responded to a leaf fire reported at Hodge and Lilac Lane.
On Nov. 17 two leaf fires were reported around 10:18 p.m. One occurred near 144 Hodge Road and the other on Morven Place. The same fire truck handled both fires.
---
Article 3:
LEAF-FIRES STARTED
On Hodge, Morven Place. Two leaf fires at the same time Friday evening, one near 144 Hodge Road and the other on Morven Place, were extinguished by a piece of fire apparatus requested by police.
A third leaf fire reported the previous evening at 5:14 on Hodge and Lilac required three pieces of fire equipment. Firemen returned at 5:35. "Someone is throwing matches in leaf piles," commented Capt. Theodore Lewis.
---
Article 4:
Police Blotter
The third house fire within two weeks has struck in Princeton Township. All fires were related to fires in the fireplace.
The latest fire, last Saturday, Jan. 16, brought firemen to the home of Morroe Berger, 72 Clover Lane, at 3:46 a.m. The fire was restricted to the wall area surrounding the fireplace, according to the police report. The house itself was filled with smoke.
Police report that a small fireplace fire was nearly out when Mr. Berger retired at 12:30 a.m.
The first fire on Clover Lane occurred during the early morning hours of Jan. 2 at the home of William O'Shaughessy, 35 Clover Lane.
Between those two dates another fire related to a fireplace occurred at the home of Julius Cohen, 16 Clover Lane, though it did not require fire department assistance.
---
Article 5:
FIREPLACE BLAMED
In Early Morning Fire. Damage was confined to the wall area around a fireplace in an early morning fire Sunday at the home of Morroe Berger, 72 Clover Lane.
Ptl. Robert Nielsen, who responded to a 3:39 call, observed smoke coming from the wall and a general alarm was sounded at 3:46. Firemen evacuated the occupants when the interior of the house filled with smoke.
Mr. Berger told police that they had had a small fire in the fireplace that evening. It was nearly out, he said, when he retired at 12:30 in the morning.
Article 5:
William O'Shaughnessy of 35 Clover Lane threw the last log in his fire around 9 p.m. New Year's Day but was awakened with the smell of smoke in the house. A general alarm was sounded and firemen found a fire on the roof, apparently started by ashed dropping there. Damage to the house was limited to the sides of the house where it joined with the fireplace and roof area.
---
Article 6:
SMALL FIRES ERUPT
No Serious Damage. There were a number of small fires reported in Princeton this week but none developed into anything serious.
Around noon Tuesday, Township police sent one truck to clear smoke from the kitchen in the home of Charles K. Kliment, 321 Walnut Lane. A roast had been left in the oven too long, police said.
Monday night, the car of Frank L. Wittaker, 10 Beach Hill Circle, caught fire on Princeton Avenue near Nassau. It had to be towed away after being extinguished by Ptl. Gerald Patterson and Sgt. Robert Anderson.
Earlier the same evening at 8:22, police and three fire units responded to a fire in the kitchen of the home of Ms. Reba M. Tindall, 14 Edgehill Street. Lt. John J. Bellow reported that the electrical fire was located inside a kitchen wall and was put out by police using a powder extinguisher. Firemen then tore the wall apart to make sure the fire was out, he said.
Sunday morning at 9:28, Ptl. William Clarke and Ptl. David Alston responded to a call reporting a fire in the second floor of the home of Mrs. J.L. Marshall, 13 Quarry Street.
A mattress was burned and there was some smoke damage to a second floor bedroom. Lt. Bellow said the police believe a cigarette was the cause of the fire.
There were two field fires last week near the Hun School football field.
One, in an area behind 113 Hun Road on Sunday, burned out an area approximately 50 feet square before being put out by three fire trucks. Police said they believe the fire was set by juveniles. It was investigated by Ptl. David Cromwell.
Saturday afternoon, a leaf fire in a wooded area behind 191 Hun Road, burned out a 3-X-25 foot strip. It appeared to have been started by a match or carelessly thrown cigarette, police said. Ptl. Mario Musso investigated.