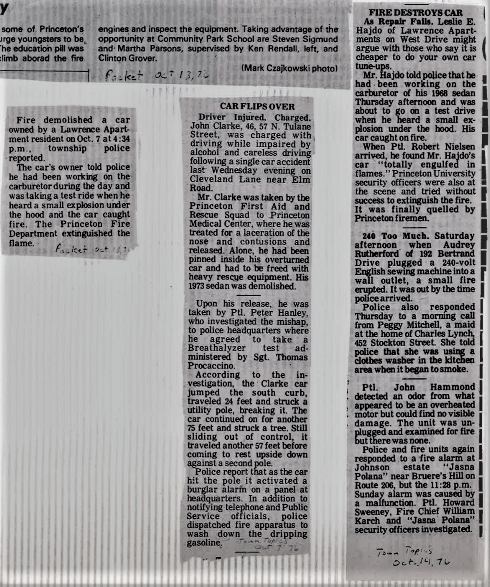 Princeton Packet
14 October 1976
Article 1:
Fire demolished a car owned by a Lawrence Apartment resident on Oct. 7 at 4:34 p.m., township police reported.
The car's owner told police he had been working on the carburetor during the day and was taking a test ride when he heard a small explosion under the hood and the car caught fire. The Princeton Fire Department extinguished the flame.
---
Town Topics
14 October 1976
Article 2:
CAR FLIPS OVER
Driver Injured, Charged.
John Clarke, 46, 57 N. Tulane Street, was charged with driving while impaired by alcohol and careless driving following a single car accident last Wednesday evening on Cleveland Lane near Elm road.
Mr. Clarke was taken by the Princeton First Aid and Rescue Squad to Princeton Medical Center, where he was treated for a laceration of the nose and contusions and released. Alone, he had been pinned inside his overturned car and had to be freed with heavy rescue equipment. His 1973 sedan was demolished.
Upon his release, he was taken by Ptl. Peter Hanley, who investigated the mishap, to police headquarters where he agreed to take a Breathalyzer test administered by Sgt. Thomas Procaccino.
According to the investigation, the Clarke car jumped the south curb, traveled 24 feet and struck a utility pole, breaking it. The car continued on for another 75 feet and struck a tree. Stil sliding out of control, it traveled another 57 feet before coming to a rest upside down against a second pole.
Police report that as the car hit the pole it activated a burglar alarm on a panel at headquarters. In addition to notifying telephone and Public Service officials., police dispatched fire apparatus to wash down the dripping gasoline.
Article 3:
FIRE DESTROYS CAR
As Repair Fails. Leslie E. Hajdo of Lawrence Apartments on West Drive might argue with those who say it is cheaper to do your own car tune-ups.
Mr. Hajdo told police that he had been working on the carburetor of his 1988 sedan Thursday afternoon and was about to go on a test drive when he heard a small explosion under the hood. His car caught on fire.
When Ptl. Robert Nielsen arrived, he found Mr. Hajdo's car "totally engulfed in flames." Princeton University security officers were also at the scene and tried without success to extinguish the fire. It was finally quelled by Princeton firemen.
240 Too Much. Saturday afternoon when Audrey Rutherford of 192 Bertrand Drive plugged a 240-volt English sewing machine into a wall outlet, a small fire erupted. It was out by the time police arrived.
Police also responded Thursday to a morning call from Peggy Mitchell, a maid at the home of Charles Lynch, 452 Stockton Street. She told police that she was using a clothes washer in the kitchen area when it began to smoke.
Ptl. John Hammond detected an odor from what appeared to be an overheated motor but could find no visible damage. The unit was unplugged and examined for fire but there was none.
Police and Fire units again responded to a fire alarm at Johnson estate "Jasna Polana" near Bruere's Hill on Route 206, but the 11:28 p.m. Sunday alarm was caused by a malfunction. Ptl. Howard Sweeney, Fire Chief William Karch and "Jasna Polana" security officers investigated.