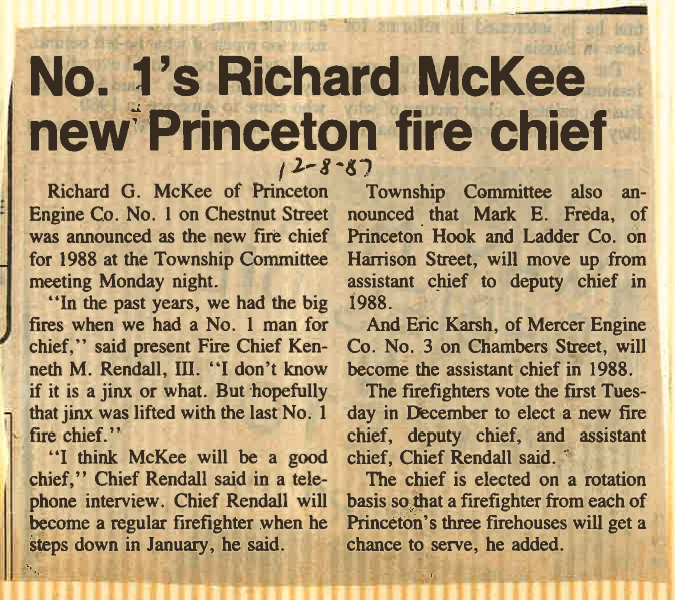 8 December, 1987
No. 1's Richard McKee new' Princeton fire chief 
Richard G. McKee of Princeton Engine Co. No. 1 on Chestnut Street was announced as the new fire chief for 1988 at the Township Committee meeting Monday night.
"In the past years, we had the big fires when we had a No. I man for chief," said present Fire Chief Kenneth M. Rends", III. "I don't know if it is a jinx or what. But 'hopefully that jinx was lifted with the last No. I fire chief."
"I think McKee will be a good chief," Chief Rendall said in a telephone interview. Chief Rendall will become a regular firefighter when he steps down in January, he said.
Township Committee also announced that Mark E. Freda, of Princeton Hook and Ladder Co. on Harrison Street, will move up from assistant chief to deputy chief in 1988.
And Eric Karsh, of Mercer Engine Co. No. 3 on Clambers Street, will become the assistant chief in 1988. The firefighters vote the first Tuesday in December to elect a new fire chief, deputy chief, and assistant chief, Chief Kendall said.
The chief is elected on a rotation basis so that a firefighter from each of Princeton's three firehouses will get a chance to serve, he added.