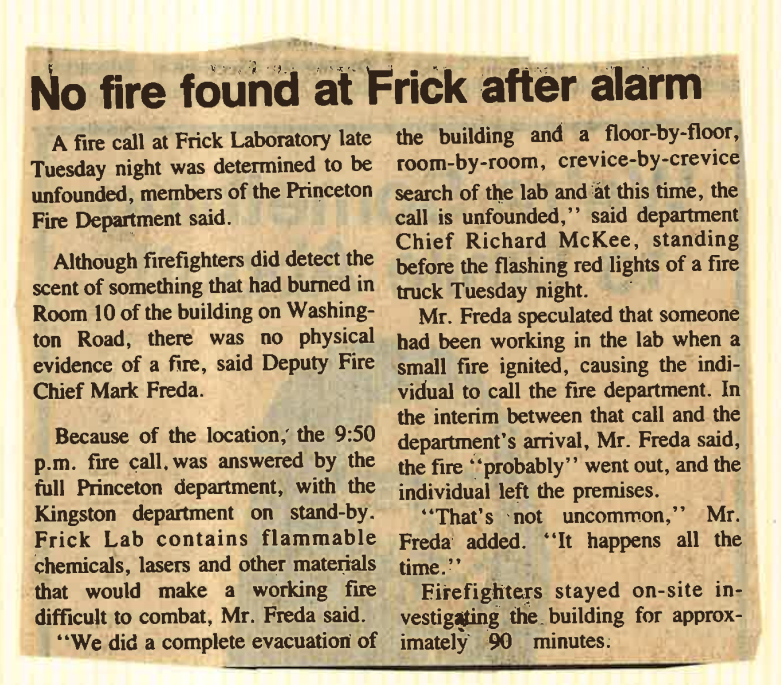 8 November, 1988 (~estimated)
No fire found at Frick after alarm
A fire call at Frick Laboratory late Tuesday night was determined to be unfounded, members of the Princeton Fire Department said.
Although firefighters did detect the scent of something that had bumed in Room 10 of the building on Washington Road, there was no physical evidence of a fire, said Deputy Fire Chief Mark Freda.
Because of the location; the 9:50 p.m. fire call, was answered by the full Princeton department, with the Kingston department on stand-by. Frick Lab contains flammable chemicals, lasers and other materials that would make a working free difficult to combat, Mr. Freda said.
"We did a complete evacuation of the building and a floor-by-floor, room-by-room, crevice-by-crevice search of the lab and at this time, the call is unfounded," said department Chief Richard McKee, standing before the flashing red lights of a fire truck Tuesday night.
Mr. Freda speculated that someone had been working in the lab when a small fire ignited, causing the individual to call the fire department. In the interim between that call and the department's arrival, Mr. Freda said, the fire "probably" went out, and the individual left the premises. "That's not uncommon," Mr. Freda added. "It happens all the time."
Firefighters stayed on-site investigating the building for approximately 90 minutes.