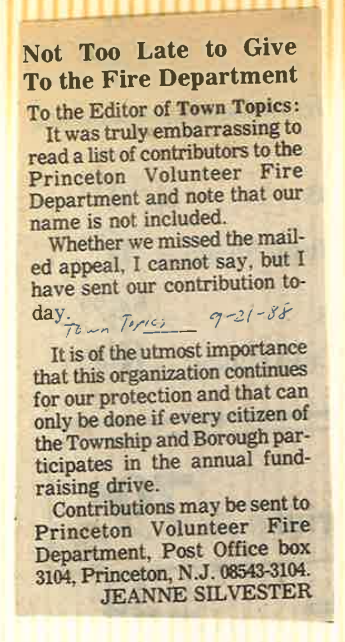 Town Topics
21 September, 1988
Not Too Late to Give  To the Fire Department
To the Editor of Town Topics:
It was truly embarrassing to read a list of contributors to the Princeton Volunteer Fire Department and note that our name is not included.
Whether we missed the mail-ed appeal. I cannot say, but I have sent our contribution to-day.
(It is of the utmost importance that this organization continues for our protection and that can only be done if every citizen of the Township and Borough participates in the annual fund-raising drive.
Contributions may be sent to Princeton Volunteer Fire Department. Post Office box 5104. Princeton, N.J. 08543-3104. JEANNE SILVESTER