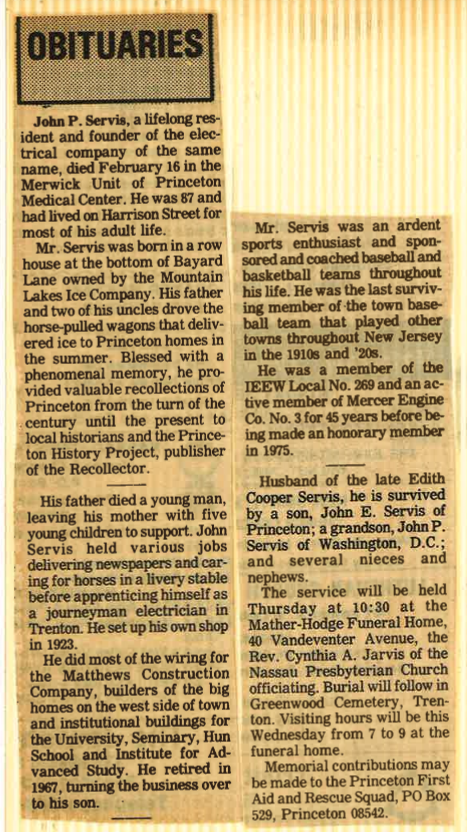 Town Topics
5 March, 1986
Obituaries
John P. Servis, a lifelong resident and founder of the electrical company of the same name, died February 16 in the Merwick Unit of Princeton Medical Center. He was 87 and had lived on Harrison Street for most of his adult life.
Mr. Servis was born in a row house at the bottom of Bayard Lane owned by the Mountain Lakes Ice Company. His father and two of his uncles drove the horse-pulled wagons that delivered ice to Princeton homes in the summer. Blessed with a phenomenal memory, he provided valuable recollections of Princeton from the turn of the century until the present to local historians and the Princeton History Project, publisher of the Recollector.
---
His father died a young man, leaving his mother with five young children to support. John Servis held various jobs delivering newspapers and caring for horses in a livery stable before apprenticing himself as a journeyman electrician in Trenton. He set up his own shop in 1923.
He did most of the wiring for the Matthews Construction Company, builders of the big homes on the west side of town and institutional buildings for the University, Seminary, Hun School and Institute for Advanced Study. He retired in 1967, turning the business over to his son.
Mr. Servis was an ardent sports enthusiast and sponsored and coached baseball and basketball teams throughout his life. He was the last surviving member of the town baseball team that played other towns throughout New Jersey in the 1910s and '20s. He was a member of the IEEW Local No. 269 and an active member of Mercer Engine Co. No. 3 for 45 years before being made an honorary member in 1975.
---
Husband of the late Edith Cooper Servis, he is survived by a son, John E. Servis of Princeton; a grandson, John P. Servis of Washington, D.C.; and several nieces and nephews.
The service will be held Thursday at 10:30 at the Mather-Hodge Funeral Home, 40 Vandeventer Avenue, the Rev. Cynthia A. Jarvis of the Nassau Presbyterian Church officiating. Burial will follow in Greenwood Cemetery, Trenton. Visiting hours will be this Wednesday from 7 to 9 at the funeral home. Memorial contributions may be made to the Princeton First Aid and Rescue Squad, PO Box 529, Princeton 08542.