24 January, 1984
Officials balk at library staff increases
by Dodie Murphy Wagner
Staff Writer
Princeton borough and township officials postponed until Saturday any action on the public library's request for $708,476 to operate this year. In addition, they postponed granting money to the fire commission, first aid squad, planning board and Sewer Operating Committee.
Township Committee members balked at giving the library money to increase staff salaried by 7.5 percent since the township granted its employees a 6.5 percent increment.
Legally, neither governing body may tell the library how to spend its money, but may choose to cut the appropriation.
Majorities of both the Township Committee and Borough Council met Saturday to discuss 1984 budget requests from various joint agencies and commissions.
Borough Councilman John Huntoon called library staff salaries "outrageously low" and cited several examples where employees with 10 to 25 years of service earn only a few thousand dollars more than the minimum salary suggested by the New Jersey Library Association.
For example, the NJLA recommends a $14,000 starting salary for a bookkeeper. Princeton Public Library's person in that post receives $17,000 and has been employed for 25 years. The NJLA also recommends $10,551 as the starting salary for a senior library assistant. The person in that job in Princeton has worked at the library for 10 years and receives about $10,500, Mr. Huntoon said.
According to the councilman, the library's supply of books has declined — perhaps because of security problems — and is not being replenished. In past years, he said, the library increased salaries by using money the board of trustees planned to spend on book purchases.
While eating "Southern Hospitality Cornbread" baked by the township clerk in honor of borough Mayor Barbara Sigmund, both municipal bodies listened to Mark Freda, the fire commission representative, tell of an unsafe floor in the Chambers Street firehouse and list numerous vehicles needing preventive maintenance.
The aerial firetruck, purchased several years ago for $92,000 and now worth $200,000 to $250,000, is a year overdue for service. Firefighting equipment, he said, has "not been maintained by people who know what they're doing." In addition, firefighters don't have all the required clothes.
"The fire department needs a lot of attention," he said, adding. "Some of it is our fault — we haven't always been here at budget meetings."
Township Mayor Winthrop S. Pike responded,* "It looks as if we have a number of problems in the fire area."
Committeewoman Gail Firestone complained township taxpayers provide 64 percent of the fire department budget, "yet we have no firehouse in the township."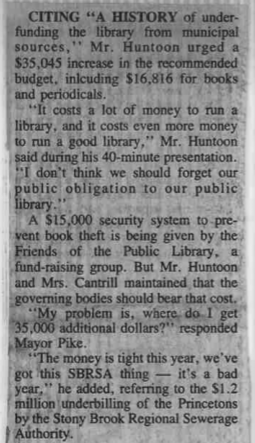 CITING "A HISTORY of under-funding the library from municipal sources," Mr. Huntoon urged a $35,045 increase in the recommended budget, including $16,816 for books and periodicals.
"It costs a lot of money to run a library, and it costs even more money to run a good library." Mr. Huntoon said during his 40-minute presentation. "I don't think we should forget our public obligation to our public library."
A $15,000 security system to prevent book theft is being given by the Friends of the Public Library, a fund-raising group. But Mr. Huntoon and Mrs. Cantrill maintained that the governing bodies should bear that cost.
''My problem is, where, do I get 35,000 additional dollars?" responded Mayor Pike.
"The money is tight this year, we've got this SBRSA thing — it's a bad year," he added, referring to the $1.2 million underbilling of the Princetons by the Stony Brook Regional Sewerage Authority.