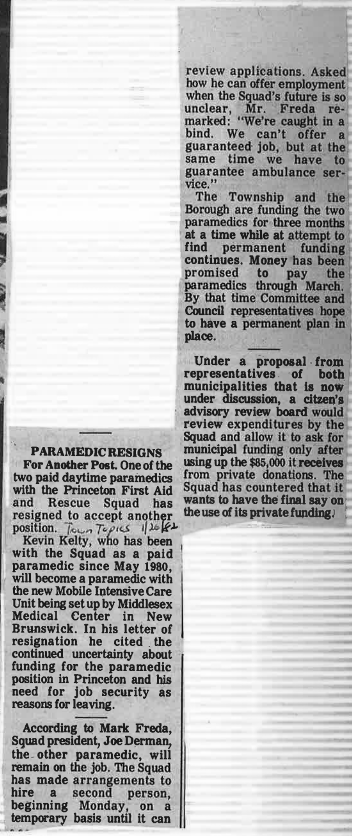 Town Topics
26 January 1982
Paramedic Resigns
PARAMEDIC RESIGNS For Another Post. One of the two paid daytime paramedics with the Princeton First Aid and Rescue Squad has resigned to accept another position.
Kevin Kelty, who has been with the Squad as a paid paramedic since May 1980, will become a paramedic with the new Mobile Intensive Care Unit being set up by Middlesex Medical Center in New Brunswick. In his letter of resignation he cited the continued uncertainty about funding for the paramedic position in Princeton and his need for job security as reasons for leaving.
According to Mark Freda, Squad president, Joe Derman, the other paramedic, will remain on the job. The Squad has made arrangements to hire a second person, beginning Monday, on a temporary basis until it can review applications. Asked how he can offer employment when the Squad's future is so unclear, Mr. Freda remarked: "We're caught in a bind. We can't offer a guaranteed job, but at the same time we have to guarantee ambulance service."
The Township and the Borough are funding the two paramedics for three months at a time while at attempt to find permanent funding continues. Money has been promised to pay the paramedics through March. By that time Committee and Council representatives hope to have a permanent plan in place.
Under a proposal from representatives of both municipalities that is now under discussion, a citizen's advisory review board would review expenditures by the Squad and allow it to ask for municipal funding only after using up the $85,000 it receives from private donations. The Squad has countered that it wants to have the final say on the use of its private funding.