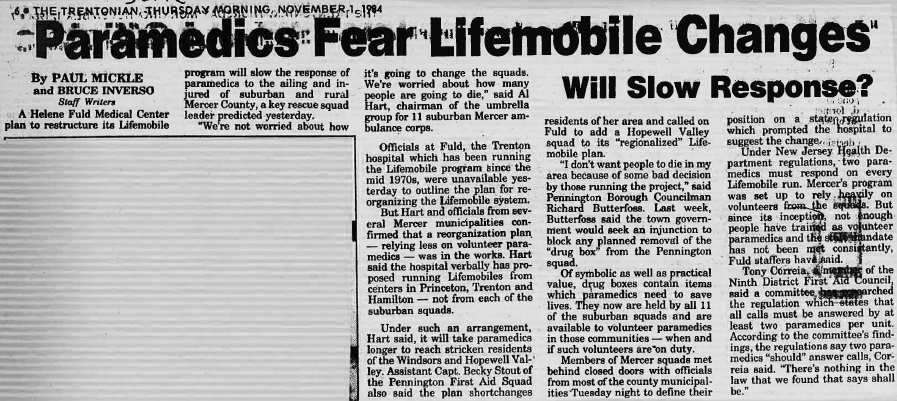 The Trentonian
1 November, 1984
Paramedics Fear Lifemobile Changes
Author: Paul Mickle and Bruce Inverso, Staff Writer
A Helene Fuld Medical Center plan to restructure its Lifemobile program will slow the response of paramedics to the ailing and injured of suburban and rural Mercer County, a key rescue squad loader predicted yesterday.
"Were not worried about how  it's going to change the squads. We're worried about how many are going to die," said Al Hart, chairman of the umbrella group for 11 suburban Mercer ambulance corps.
Officials at Fuld, the Trenton hospital which has been running the Lifemobile program since the mid 1970s, were unavailable yesterday to outline the plan for reorganizing the Lifemobile system.
But Hart and officials from several Mercer municipalities confirmed that a reorganization plan — relying less on volunteer paramedics — was in the works. Hart said the hospital verbally has proposed running Lifemobiles from centers in Princeton, Trenton and Hamilton — not from each of the suburban squads.
Under such an arrangement, Hart said, it will take paramedics longer to reach stricken residents of the Windsors and Hopewell Valley. Assistant Capt. Becky Stout of the Pennington First Aid Squad also said the plan shortchanges residents of her area and called on Fuld to add a Hopewell Valley squad to its "regionalized" Lifemobile plan.
"I don't want people to die in my area because of some bad decision by those running the project," said Pennington Borough Councilman Richard Butterfoss. Last week, Butterfoss said the town government would seek an injunction to block any planned removal of the "drug box' from the Pennington squad.
Of symbolic as well as practical value, drug boxes contain items which paramedics need to save lives. They now are held by all 11 of the suburban squads and are available to volunteer paramedics in those communities — when and if such volunteers are on duty.
Members of Mercer squads met behind closed doors with officials from most of the county municipalities Tuesday night to define their position on a state regulation
which prompted the hospital to suggest the change.
Under New Jersey health Department regulations, two paramedics must respond on every Lifemobile run. Mercer's program was set up to rely heavily on volunteers from the squads. But since its inception, not people have trained as volunteer paramedics and the state mandate has not been met consistantly, Fuld staffers have said.
Tony Correia, a member of the Ninth District First Aid Council, said a committee, has researched the regulation which states that all calls must be answered by at least two paramedics per unit. According to the committee's findings, the regulations say two paramedics "should" answer calls, Correia said. "There's nothing in the law that we found that says shall be."