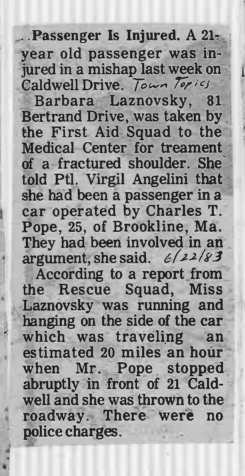 Town Topics
22 June 1983
Passenger is Injured
A 21-year old passenger was injured in a mishap last week on Caldwell Drive.
Barbara Laznovsky, 81 Bertrand Drive, was taken by the First Aid Squad to the Medical Center for treatment of a fractured shoulder. She told Ptl. Virgil Angelini that she had been a passenger in a car operated by Charles T. Pope, 25, of Brookline, Ma. They had been involved in an argument, she said.
According to a report from the Rescue Squad, Miss Laznovsky was running and hanging on the side of the car which was traveling an estimated 20 miles an hour when Mr. Pope stopped abruptly in front of 21 Caldwell and she was thrown to the roadway. There were no police charges.