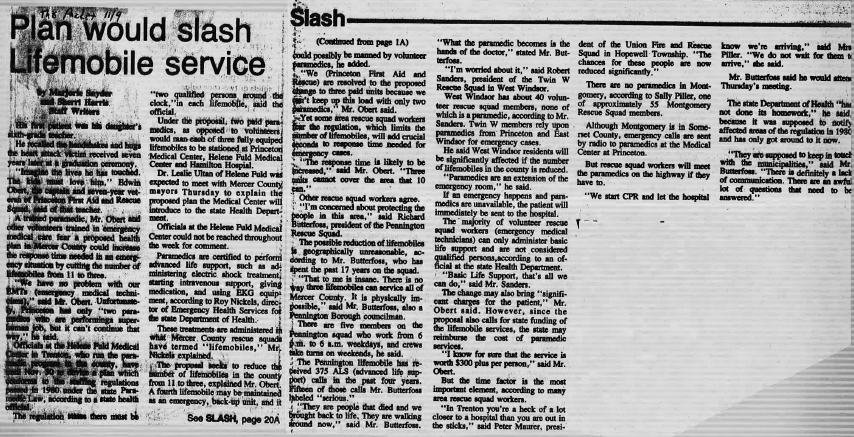 Princeton Packet
9 November, 1984
Plan would slash Lifemobile service
Authors: Marjorie Snyder and Sherri Harris, Staff Writers
His first patient was his daughter's sixth-grade teacher.
He recalled the handshakes and hugs the heart attack victim received seven years later at a graduation ceremony.
"Imagine the lives he has touched. The kids must love him," Edsin Obert, the captain and seven-year veteran of Princeton First Aid and Rescue Squad, said of that teacher.
A trained paramedic, Mr. Obert and other volunteers trained in emergency medical care fear a proposed health plan in Mercer County could increase the response time needed in an emergency situation by cutting the number of lifemobiles from 11 to three.
"We have no problem with out EMTs (emergency medical technicians)," said Mr. Obert. Unfortunately, Princeton has only "two paramedics who are performing a super-human job, but it can't continue that way," he said.
Officials at the Helene Fuld Medical Center in Trenton, who run the paramedic program in the county, have until Nov. 30 to devise a plan which conforms to the staffing regulations passed in 1980 under the state Paramedic Law, according to a state health official.
The regulation states there must be "two qualified persons around the clock," in each lifemobile, said the official.
Under the proposal, two paid paramedics, as opposed to volunteers would man each of three fully-equipped lifemobiles to be stationed at Princetorn Medical Center, Helene Fuld Medical Center and Hamilton Hospital.
Dr. Leslie Ultan of Helme Fuld was expected to meet with Mercer County mayors Thursday to explain the proposed plan the Medical Center will introduce to the state Health Department.
Officials at the Helene Fuld Medical Center could not be reached throughout the week for comment.
Paramedics are certified to perform advanced life support, such as administering electric shock treatment, starting intravenous support, giving medication, and using EKG equipment, according to Roy Nickels, director of Emergency Health Services for the state Department of Health.
These treatments are administered in what Mercer County rescue squad havetermed "lifemobiles," Mr. Nickels explained.
The proposal seeks to reduce the number of lifemobiles in the county from 11 to three, explained Mr, Obert. A tenth lifemobile may be maintained as an emergency, back-up unit, and it could possibly be manned by volunteer paramedics, be added.
"We (Princeton First Aid and Rescue) are resolved to the proposed change to three paid units because we can't keep up this load with only two paramedics," Mr. Obert said.
Yet some area rescue squad workers fear the regulation, which limits the number of lifemobiles, will add crucial seconds to response time needed for emergency cases.
"The response time is likely to be increased," said Mr. Obert. "Three units cannot cover the area that 10 can."
Other rescue squad workers agree.
"I'm concerned about protecting the people in this area," said Richard Butterfoss, president of the Pennington Rescue Squad.
The possible reduction of lifemobiles is geographically unreasonable, according to Mr. Butterfoss, who has spent the past 17 years on the squad.
"That to me is insane. There is no way three lifemobiles can service all of Mercer County. It is physically impossible," said Mr. Butterfoss, also a Pennington Borough councilman.
There are five members on the Pennington squad who work from 6 p.m. to 6 a.m. weekdays, and crews take turns on weekends, he said.
The Pennington lifemobile has received 375 ALS (advanced life support) calls in the past four years. Fifteen of those calls Mr. Butterfoss labeled "serious."
"They are people that died and we brought back to life. They are walking around now," said Mr. Butterfoss.
"What the paramedic becomes is the hands of die doctor," stated Mr. Butterfoss.
"I'm worried about it," said Robert Sanders, president of the Twin W Rescue Squad in West Windsor.
West Windsor has about 40 volunteer rescue squad members, none of which is a paramedic, according to Mr. Sanders. Twin W members rely upon paramedics from Princeton and East Windsor for emergency cases.
He said West Windsor residents will be significantly affected if the number of lifemobiles in the county is reduced.
"Paramedics are an extension of the emergency room," be said.
If an emergency happens and paramedics are unavailable, the patient will immediately be sent to the hospital.
The majority of volunteer rescue squad workers (emergency medical technicians) can only administer basic life support and are not considered qualified persons, according to an official at the state Health Department.
"Basic Life Support, that's all we can do," said Mr. Sanders.
The change may also bring "significant charges for the patient," Mr. Obert said. However, since the proposal also calls for state funding of the lifemobile services, the state may reimburse the cost of paramedic services.
"I know for sure that the service is worth $300 plus per person," said Mr. Obert.
But the time factor is the most important element, according to many area rescue squad workers.
"In Trenton you're a heck of a lot closer to a hospital than you are out in the sticks," said Peter Maurer, president of the Union Fire and Rescue Squad in Hopewell Township. "The chances for these people are now reduced significantly."
There are no paramedics in Montgomery, according to Sally Piller, one of approximately SS Montgomery Rescue Squad members.
Although Montgomery is in Somerset County, emergency calls are sent by radio to paramedics at the Medical Center at Princeton.
But rescue squad workers Will meet the paramedics on the highway if they have to.
"We start CPR and let the hospital know we're arriving," said Mrs. Piller. "We do not wait for them to arrive," she said.
Mr. Butterfoss mid he would attend Thursday' meeting.
The state Department of Health "has not done its homework," he said, because it was supposed to notify affected areas of the regulation in 1980 and has only got around to it now.
"They are supposed to keep in touch with the municipalities," said Mr. Butterfoss. "There is definitely a lack of communication. There are an awful lot of questions that need to be answered."