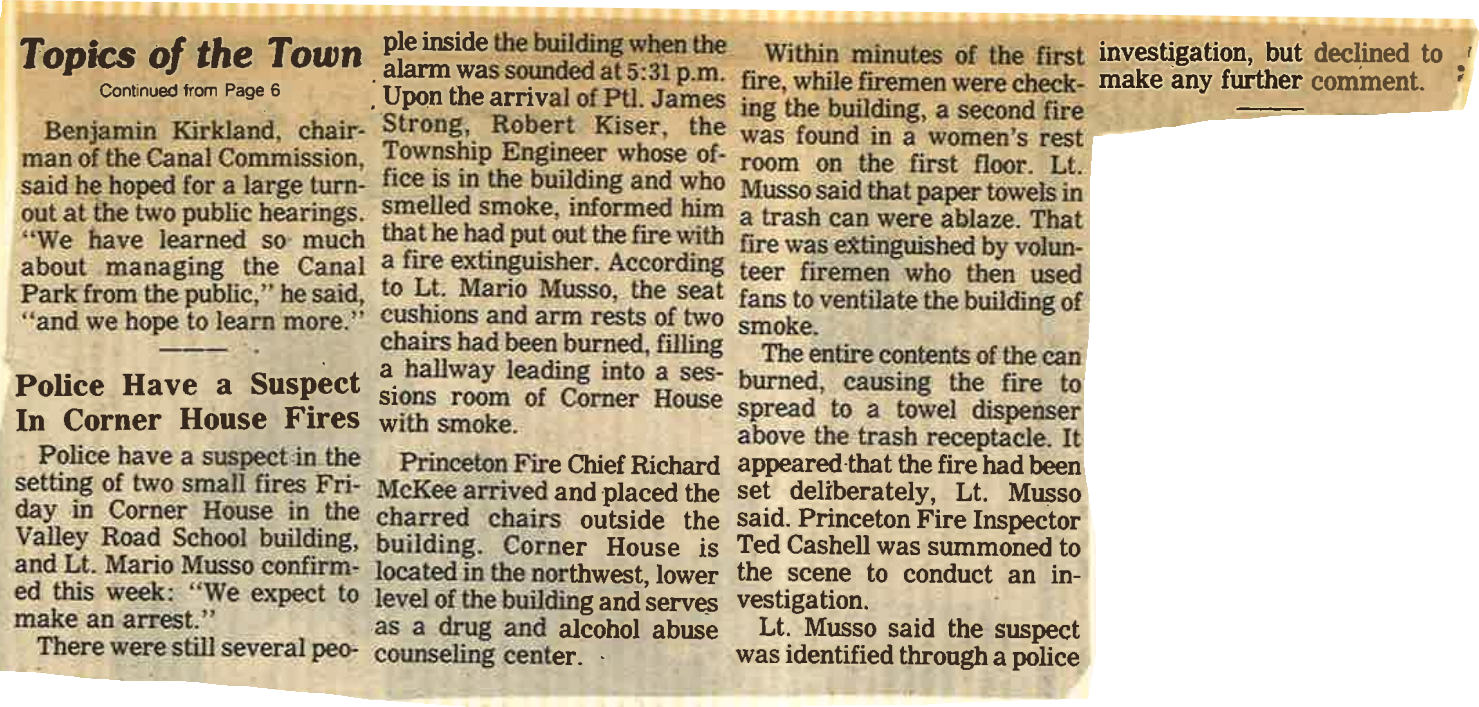 Town Topics
9 December, 1988 (~estimated)
Police Have a Suspect In Corner House Fires
Police have a suspect in the setting of two small fires Friday in Corner House in the Valley Road School building, and Lt. Mario Musso confirmed this week; "We expect to make an arrest."
There were still several people inside the building when the alarm was sounded at 5:31 p.m. Upon the arrival of Ptl. James Strong, Robert Kiser. the Township Engineer whose office is in the building and who smelled smoke, informed him that he had put out the fire with a fire extinguisher. According to Lt. Mario Musso, the seat cushions and armrests of two chairs had been burned, filling a hallway leading into a sessions room of Corner House with smoke.
Princeton Fire Chief Richard McKee arrived and placed the charred chairs outside the building. Corner House is located in the northwest, lower level of the building and serves as a drug and alcohol abuse counseling center.
Within minutes of the first fire, while firemen were checking the building, a second fire was found in a women's restroom on the first floor. Lt. Musso said that paper towels in a trash can were ablaze. That fire was extinguished by volunteer firemen who then used fans to ventilate the building of smoke.
The entire contents of the can burned. causing the fire to spread to a towel dispenser above the trash receptacle. It appeared that the fire had been set deliberately, Lt. Musso said. Princeton Fire Inspector Ted Cashell was summoned to the scene to conduct an investigation.
Lt. Musso said the suspect was identified through a police investigation, but declined to make any further comment.