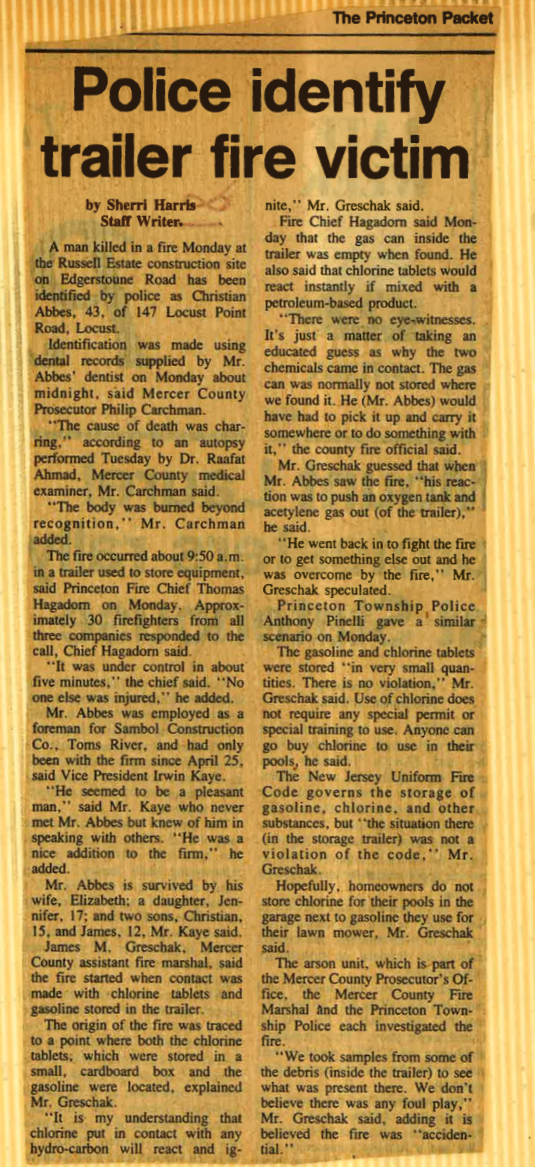 Princeton Packet
18 July, 1985
Police Identify Trailer Fire Victim
by Sherri Harris
Staff Writer
A man killed in a fire Monday at the Russell Estate construction site on Edgerstoune Road has been identified by police as Christian Abbes,43, of 147 Locust Point Road, Locust.
Identification was made using dental records supplied by Mr. Abbes' dentist on Monday about midnight. said Mercer County Prosecutor Philip Carchman.
"The cause of death was char-ring." according to an autopsy performed Tuesday by Dr. Raafat Ahmad, Mercer County medical examiner, Mr. Carchman said.
"The body was burned beyond recognition." Mr. Carchman added.
The fire occurred about 9:50 a.m. in a trailer used to store equipment. said Princeton Fire Chief Thomas Hagadorn on Monday. Approximately 30 firefighters from all three companies responded to the call, Chief Hagadorn said .
It was under control in about five minutes." the chief said. "No one else was injured." he added.
Mr. Abbes was employed as a foreman for Sambol Construction Co., Toms River. and had only been with the firm since April 25. said Vice President Irwin Kaye.
He seemed to be a pleasant man," said Mr. Kaye who never met Mr. Abbes but knew of him in speaking with others. "He was a nice addition to the firm." he added. Mr. Abbes is survived by his wife, Elizabeth: a daughter, Jen-nifer. 17: and two sons, Chnstian, 15, and James. 12. Mr. Kaye said.
James M. Greschak. Mercer County assistant fire marshal said the fire started when contact was made with chlorine tablets and gasoline stored in the trailer.
The origin of the fire  was traced to a point where both the chlorine tablets, which were stored in a small, cardboard box and the gasoline were located, explained Mr. Greschak. "It is my understanding that chlorine put in contact with any hydro-carbon will react and ignite," Mr. Greschak said.
Fire Chief Hagadom said Monday that the gas can inside the trailer was empty when found. He also said that chlorine tablets would react instantly if mixed with a petroleum-based product.
"There were no eye-witnesses. It's just a matter of taking an educated guess as why the two chemicals came in contact. The gas can was normally not stored where we found it. He (Mr. Abbes) would have had to pick it up and carry it somewhere or to do something with it." the county fire official said.
Mr. Greschak guessed that when Mr. Abbes saw the fire. "his reaction was to push an oxygen tank and acetylene gas out (of the trailer)." he said.
"He went back in to fight the fire or to get something else out and he was overcome by the fire." Mr. Greschak speculated.
Princeton Township Police Anthony Pinelli gave a similar scenario on Monday.
The gasoline and chlorine tablets were stored "in very small quantities. There is no violation," Mr. Greschak said. Use of chlorine does not require any special permit or special training to use. Anyone can go buy chlorine to use in their pools, he said.
The New Jersey Uniform Fire Code governs the storage of gasoline, chlorine, and other substances, but "the situation there (in the storage trailer) was not a violation of the code," Mr. Greschak.
Hopefully, homeowners do not store chlorine for their pools in the garage next to gasoline they use for their lawn mower, Mr. Greschak said.
The arson unit, which is pan of the Mercer County Prosecutors Office. The Mercer County Fire Marshal and the Princeton Town-ship Police each investigated the fire.
"We took samples from some of the debris (inside the trailer) to see what was present there. We don't believe there was any foul play," Mr. Greschak said, adding it is believed the fire was "accidental."
arson