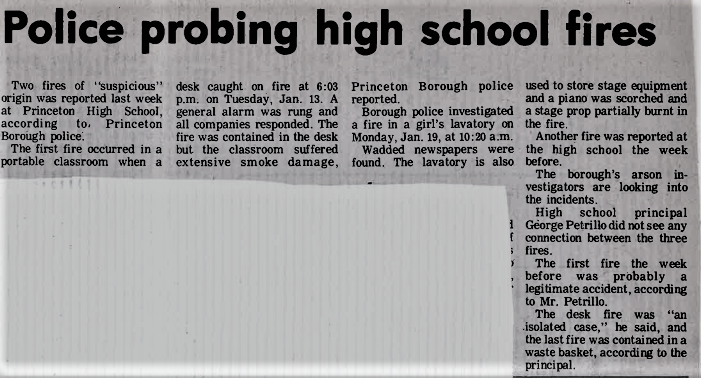 15 January 1976
Police probing high school fires
Two fires of "suspicious" origin was reported last week at Princeton High School, according to Princeton Borough police.
The first fire occurred in a portable classroom when a desk caught on fire at 6:03 p.m. on Tuesday, Jan. 13. A general alarm was rung and all companies responded. The fire was contained in the desk but the classroom suffered extensive smoke damage,
Princeton Borough police reported.
Borough police investigated a fire in a girl's lavatory on Monday, Jan. 19, at 10:20 a.m.
Wadded newspapers were found. The lavatory is also used to store stage equipment and a piano was scorched and a stage prop partially burnt in the fire.
Another fire was reported at the high school the week before.
The borough's arson investigators are looking into the incidents.
High school principal George Petrillo did not see any connection between the three fires.
The first fire the week before was probably a legitimate accident, according to Mr. Petrillo.
The desk tire was "an isolated case," he said, and the last fire was contained in a waste basket, according to the principal.