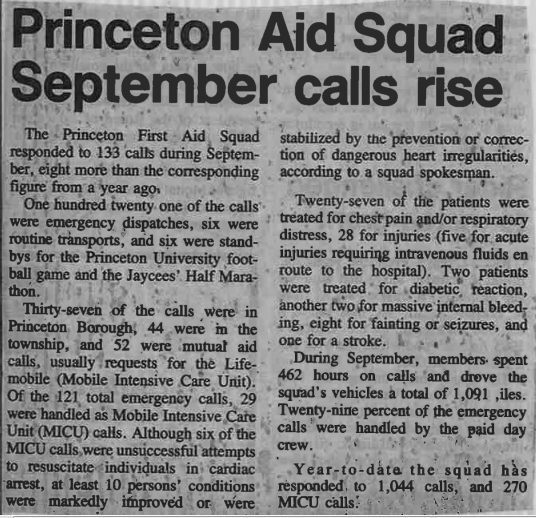 12 October, 1984 (date estimated)
Princeton Aid Squad September calls rise
The Princeton First Aid Squad responded to 133 calls during September, eight more than the corresponding figure from a year ago.
One hundred twenty one of the calls were emergency dispatches, six were routine transports, and six were standbys for the Princeton University football game and the Jaycees' Half Marathon.
Thirty-seven of the calls were in Princeton Borough, 44 were m the township, and 52 were mutual aid calls, usually requests for the Lifemobile (Mobile Intensive Care Unit). Of the 121 total emergency calls, 29 were handled as Mobile Intensive Care Unit (MICU) calls. Although six of the MICU calls were unsuccessful attempts to resuscitate individuals in cardiac arrest, at least 10 persons' conditions were markedly improved or were stabilized by the prevention or correction of dangerous heart irregularities, according to a squad spokesman.
Twenty-seven of the patients were treated for chest pain and/or respiratory distress, 28 for injuries (five for acute injuries requiring intravenous fluids en route to the hospital). Two patients were treated for diabetic, reaction, another two for massive internal bleeding, eight for fainting or seizures, and one for a stroke.
During September, members, spent 462 hours on calls and drove the squad's vehicles a total of 1,091 miles. Twenty-nine percent of the emergency calls were handled by the paid day crew.
Year-to-date the squad has responded, to 1,044 calls, and 270 MICU calls.