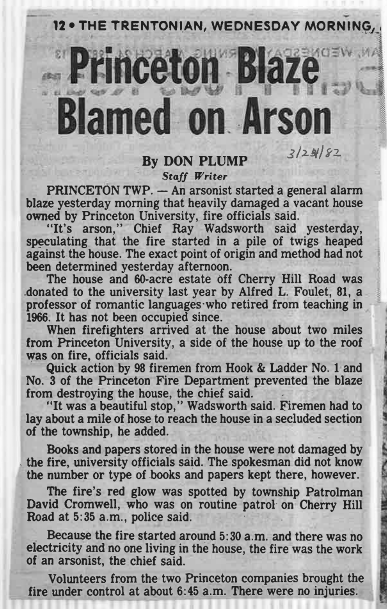 THE TRENTONIAN
24 March 1982
Princeton Blaze Blamed on Arson
By DON PLUMP
Staff Writer
PRINCETON TWP. — An arsonist started a general alarm blaze yesterday morning that heavily damaged a vacant house owned by Princeton University, fire officials said.
"It's arson," Chief Ray Wadsworth said yesterday, speculating that the fire started in a pile of twigs heaped against the house. The exact point of origin and method had not been determined yesterday afternoon.
The house and 60*acre estate off Cherry Hill Road was donated to the university last year by Alfred L. Foulet, 81, a professor of romantic languages who retired from teaching in 1966. It has not been occupied since.
When firefighters arrived at the house about two miles from Princeton University, a side of the house up to the roof was on fire, officials said.
Quick action by 98 firemen from Hook & Ladder No. 1 and No. 3 of the Princeton Fire Department prevented the blaze from destroying the house, the chief said.
"It was a beautiful stop," Wadsworth said. Firemen had to lay about a mile of hose to reach the house in a secluded section of the township, he added.
Books and papers stored in the house were not damaged by the fire, university officials said. The spokesman did not know f the number or type of books and papers kept there, however.
The fire's red glow was spotted by township Patrolman David Cromwell, who was on routine patrol on Cherry Hill Road at 5:35 a.m., police said.
Because the fire started around 5:30 a.m. and there was no electricity and no one living in the house, the fire was the work of an arsonist, the chief said.
Volunteers from the two Princeton companies brought the fire under control at about 6:45 a.m. There were no injuries.
---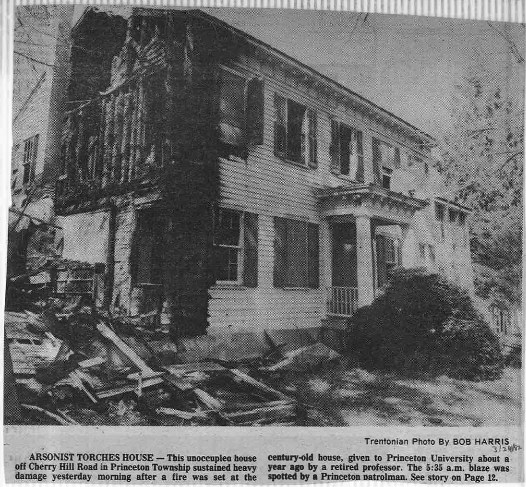 ARSONIST TORCHES HOUSE – This unoccupied house off Cherry Hill Road In Princeton Township sustained heavy damage yesterday morning after a fire was set at the century-old house, given to Princeton University about a year ago by a retired professor. The 5:35 a.m. blaze was spotted by a Princeton patrolman. See story on Page 12.
Trentonian Photo By BOB HARRIS