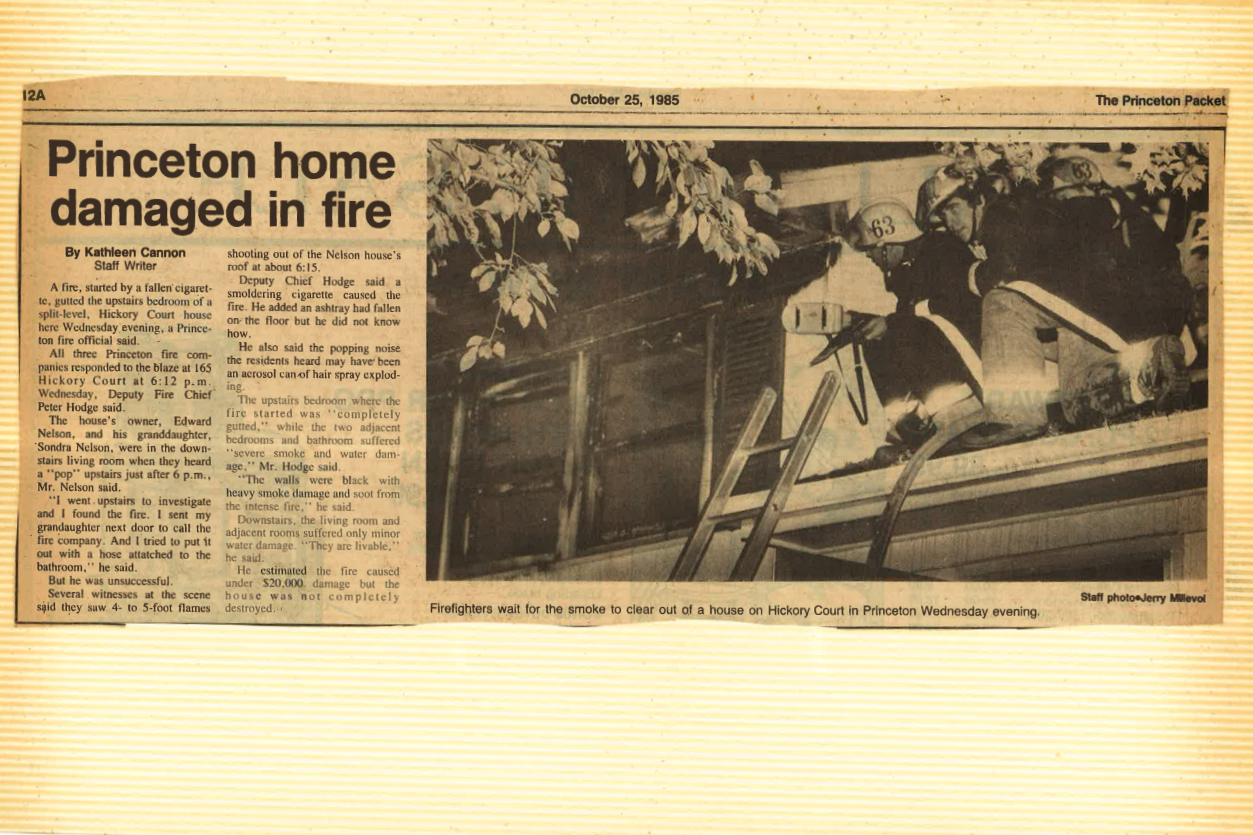 The Princeton Packet
25 October, 1985
Princeton Home Damaged in Fire
By Kathleen Cannon
Staff Writer
A fire, started by a fallen cigarette, gutted the upstairs bedroom of a split-level, Hickory Court house here Wednesday evening, a Princeton fire official said.
All three Princeton fire corn-panics responded to the blaze at 165 Hickory Court at 6:12 pm Wednesday. Deputy Fire Chief Peter Hodge said.
The house's owner, Edward Nelson, and his granddaughter, 'Sondra Nelson, were in the downstairs living room when they heard a "pop" upstairs just after 6 p.m., Mr. Nelson said.
"I went upstairs to investigate and I found the fire. I sent my granddaughter next door to call the fire company And I tried to put it out with a hose attached to the bathroom," he said.
But he was unsuccessful
Several witnesses at the scene said they saw 4- to 5-foot flames  shooting out of the Nelson house's roof at about 6:15.
Deputy Chief  Hodge said a smoldering vignette caused the fire He added an ashtray had fallen on the floor but he did not know how.
He also said the popping noise the residents heard may have been an aerosol can .of hair spray exploding.
The upstairs bedroom whew the fire started was "completely gutted." while the two adjacent bedrooms and bathroom suffered "severe smoke and water dam-age.•• Mr. Hodge said.
"The walls were black with heavy smoke damage and soot from the intense fire," he said. Downstairs, the living room and adjacent rooms suffered only minor water damage "They arc livable." he said.
He estimated the fire caused under $20,000 damage but the house was not completely destroyed.