30 June 1982
(date estimated)
Princeton's firemen pose, but they keep on the job
There they were, 130 men comprising Princeton's three fire companies, proudly lined up on the steps of Borough Hall Friday for their first group picture together since 1912.
And guess what happened? In the midst of the annual fire inspection and picture taking, an alarm sounded.
Unknown to the men at the time, a pot roast was smoldering uncontrollably in someone's kitchen at Princeton Community Village.
So off went six men from Mercer Engine Co. No. 3. straight past the bewildered photographer, to the scene of the emergency.
"Two shots and then six guys Just ran off. right in front of the photographer." mused Borough Mayor Robert Cawley, adding the incident ended up being "a good opportunity foe the assembled multitudes to see how fast they could move out."
Raymond Wadsworth, Princeton's fire chief, later said the alarm proved to he minor, causing no injuries and little damage.
"It was a pot roast." said the chief. "The guys said there was smoke pouring out the from door. They just left a fan in there, got the smoke out of the house, and came back to the inspection."
Mr. Wadsworth said he sent members of the Mercer company to the home because their fire truck was first in line and could move out the quickest.
The annual fire inspection, which is performed by Borough Council members and also involves the police department, included a parade down Nassau Street and social gatherings back at each company house later.
No one could explain why the three companies had waited 70 years to have their picture taken together.
photos by Mark Czajkowski
---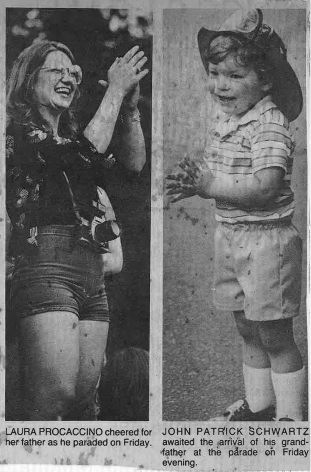 LAURA PROCACCINO cheered for her father as he paraded on Friday.
JOHN PATRICK SCHWARTZ awaited the arrival of his grandfather at the parade on Friday evening.