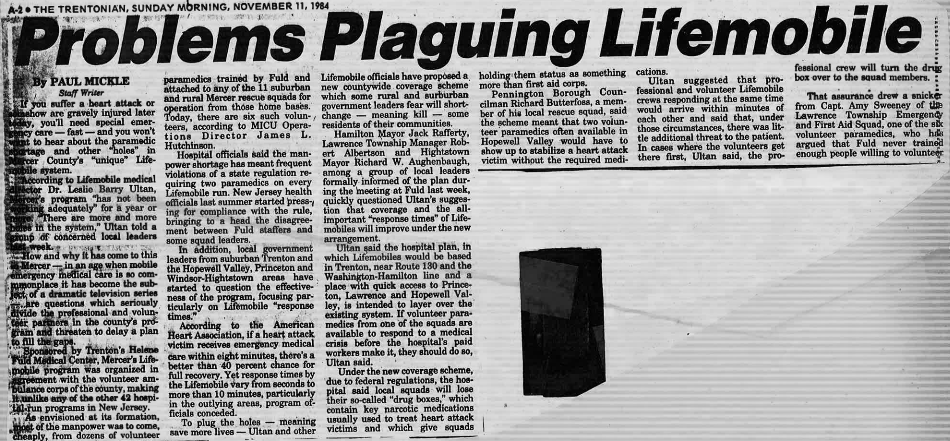 The Trentonian Times
11 November, 1984
Problems Plaguing Lifemobile
Author: Paul Mickle
Staff Writer
If you suffer a heart attack or somehow are gravely injured later today, you'll need special emergency care – fast – and you won't want to hear about the paramedic shortage and other "holes" in Mercer County's "unique" Lifemobile system.
According to Lifemobile medical director Dr. Leslie Barry Ultan, Mercer's program "has not been working adequately" for a year or more. "There are more and more holes in the system," Ultan told a group of concerned local leaders last week.
How and why it has come to this in Mercer – in an age when mobile emergency medical care is so commonplace it has become the subject of a dramatic television series – are questions which seriously divide the professional and volunteer partners in the county's program and threaten to delay a plan to fill the gaps.
Sponsored by Trenton's Helene Fuld Medical Center, Mercer's Lifemobile program was organized in agreement with the volunteer ambulance corps of the county, making it unlike any of the other 42 hospital-run programs in New Jersey.
As envisioned at its formation, most of the manpower was to come, cheaply, from dozens of volunteer paramedics trained by Fuld and attached to any of the 11 suburban and rural Mercer rescue squads for on from those home bases. Today, there are six such volunteers, according to MICU Operations Director James L. Hutchinson.
Hospital officials said the manpower shortage has meant frequent violations of a state regulation requiring two paramedics on every Lifemobile run. New Jersey health officials last summer started pressing for compliance with the rule, bringing to a head the disagreement between Fuld staffers and some squad leaders.
In addition, local government leaders from suburban Trenton and the Hopewell Valley, Princeton and Windsor-Hightstown areas have started to question the effectiveness of the program, focusing particularly on Lifemobile "response times."
According to the American Heart Association, if a heart attack victim receives emergency medical care within eight minutes, there's a better than 40 percent chance for full recovery. Yet response times by the Lifemobile Vary from seconds to more than 10 minutes, particularly in the outlying areas, program officials conceded.
To plug the holes — meaning save more lives — Ultan and other Lifemobile officials have proposed a new countywide coverage scheme which some rural and surburban government leaders fear will shortchange — meaning kill — some residents of their communities.
Hamilton Mayor Jack Rafferty, Lawrence Township Manager Robert Albertson and Hightstown Mayor Richard W. Aughenbaugh, among a group of local leaders formally informed of the plan during the meeting at Fuld last week, quickly questioned Ultan's suggestion that coverage and the all-important "response times" of Life- mobiles will improve under the new arrangement.
Ultan said the hospital plan, in which Lifemobiles would be based in Trenton, near Route 130 and the Washington-Hamilton line and a place with quick access to Princeton, Lawrence and Hopewell Valley, is intended to layer over the existing system. If volunteer para* medics from one of the squads are available to respond to a medical crisis before the hospital's paid workers make it, they should do so, Ultan said.
Under the new coverage scheme, due to federal regulations, the hospital said local squads will lose their so-called "drug boxes," which contain key narcotic medications usually used to treat heart attack victims and which give squads holding them status as something more man first aid corps.
Pennington Borough Councilman Richard Butterfoss, a member of his local rescue squad, said the scheme meant that two volunteer paramedics often available in Hopewell Valley would have to show up to stabilize a heart attack victim without the required medications.
Ultan suggested that professional and volunteer Lifemobile crews responding at the same time would arrive within minutes of each other and said that, under those circumstances, there was little additional threat to the patient. In cases where the volunteers get there first, Ultan said, the professional crew will turn the drug box over to the squad members.
That assurance drew a snicker from Capt. Amy Sweeney of Lawrence Township Emergency and First Aid Squad, one of the six volunteer paramedics, who his argued that Fuld never trained enough people willing to volunteer.