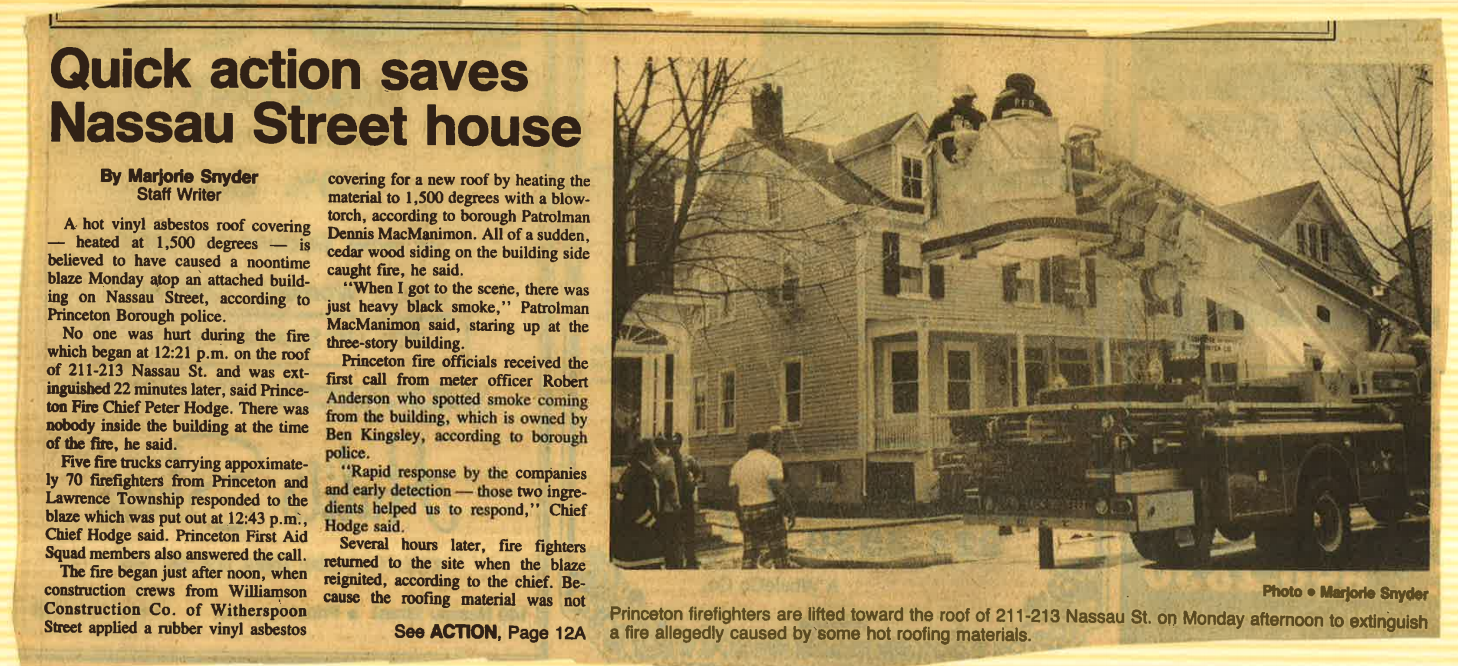 Photo • Marjorie Snyder 
Princeton firefighters are lifted toward the roof of 211-213 Nassau St. on Monday afternoon to extinguish a fire allegedly caused by some hot roofing materials. 

May 3,1986 (~estimated)
Quick action saves Nassau Street house 
By Marjorie Snyder
 Staff Writer

A hot vinyl asbestos roof covering — heated at 1,500 degrees — is believed to have caused a noontime blaze Monday atop an attached building on Nassau Street, according to Princeton Borough police. 
No one was hurt during the fire which began at 12:21 p.m. on the roof of 211-213 Nassau St. and was extinguished 22 minutes later, said Princeton Fire Chief Peter Hodge. There was nobody inside the building at the time of the fire, he said. 
Five firetrucks carrying approximately 70 firefighters from Princeton and Lawrence Township responded to the blaze which was put out at 12:43 p.m., Chief Hodge said. Princeton First Aid Squad members also answered the call. 
The fire began just after noon when construction crews from Williamson Construction Co. of Witherspoon Street applied a rubber vinyl asbestos covering for a new roof by heating the material to 1,500 degrees with a blowtorch, according to borough Patrolman Dennis MacManimon. All of a sudden, cedarwood siding on the building side caught fire, he said. 
"When I got to the scene, there was just heavy black smoke," Patrolman Macklanimon said, staring up at the three-story building. 
Princeton fire officials received the first call from meter officer Robert Anderson who spotted smoke coining from the building, which is owned by Ben Kingsley, according to borough police.
"Rapid response by the companies and early detection — those two ingredients helped us to respond," Chief Hodge said. 
Several hours later, firefighters returned to the site when the blaze reignited, according to the chief. Because the roofing material was not sealed tightly, oxygen leaked through a gap and caused flames at the other end of the building — approximately 12 feet away from the earlier fire, he said. The blaze, which occurred at about 3:30 p.m., was quenched "relatively fast," he said. 
The extent of damage done to the yellow wooden attached-house had not yet been assessed as of Monday, according to Bill Majewski, Princeton fire inspector. 
Kushmore Typewriter Co. is located at the lower level of 213 Nassau St. with three apartments above, according to Chief Hodge. He said apartment dwellers on the third floor and one second-floor apartment would not be permitted to stay in the building Monday night because windows were smashed and smoke had damaged the rooms. However, another apartment on the second floor is habitable, the chief said. 
Lunchtime traffic along Nassau Street — between Moore and Chestnut streets — was detoured from the scene for about 40 minutes, police said.
Dozens of onlookers watched fire crews climb onto the roof, break open windows, and swing large water hoses up to the second floor. 
Standing across the street — outside St. Paul's Roman Catholic Church — Sandy Huffaker of Princeton Township said he held a personal interest in the fire. 
Mr. Huffaker's gray Plymouth Turismo was parked across from the street from the blaze. After cashing a check at a nearby bank, he returned to his car, only to find fire trucks and police cars driving down Nassau Street. 
"I said, 'Oh my God — my, car!" Mr. Huffaker said. "I saw flames. It was pretty scary." 
Some 40 minutes later — when much of the smoke and crowds had cleared away — Mr. Huffaker still stood on Nassau Street. He had no choice. Several fire trucks were blocking his car.