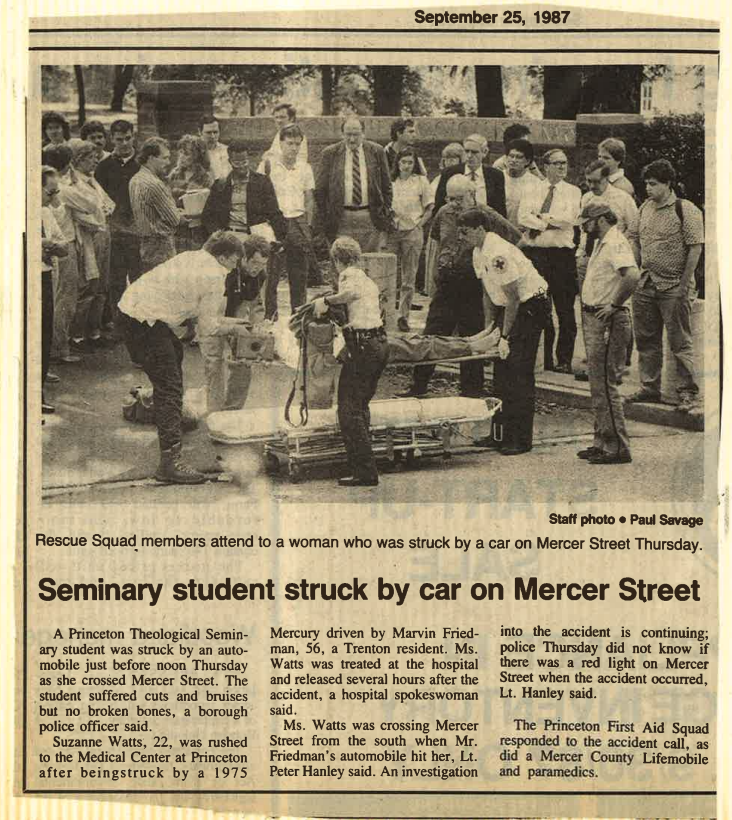 Staff Photo • Paul Savage
Rescue Squad members attend to a woman who was struck by a car on Mercer Street Thursday
25 September, 1987
Seminary student struck by car on Mercer Street
A Princeton Theological Seminary student was struck by an automobile just before noon Thursday as she crossed Mercer Street. The student suffered cuts and bruises but no broken bones, a borough police officer said.
Suzanne Watts, 22, was rushed to the Medical Center at Princeton after being struck by a 1975 Mercury driven by Marvin Friedman, 56, a Trenton resident. Ms. Watts was treated at the hospital and released several hours after the accident, a hospital spokeswoman said.
Ms. Watts was crossing Mercer Street from the south when Mr. Friedman's automobile hit her, U. Peter Hanley said. An investigation into the accident uing; police Thursday did know if there was a and light on Mercer Street when the accident occurred, U. Hanley said.
The Princeton First Aid Squad responded to the accident call, as did a Mercer County Lifemobile and paramedics.