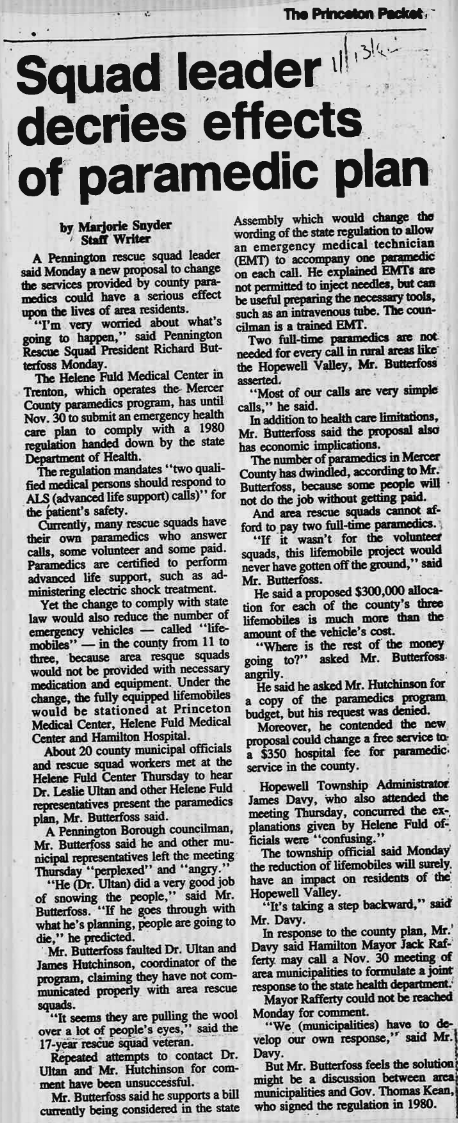 The Princeton Packet
13 November, 1984
Squad leader decries effects of paramedic plan
Author: Marjorie Snyder
Staff Writer
A Pennington rescue squad leader said Monday a new proposal to change the services provided by county paramedics could have a serious effect upon the lives of area residents.
"I'm very worried about what's going to happen," said Pennington Rescue Squad President Richard Butterfoss Monday.
The Helene Fuld Medical Center in Trenton, which operates the Mercer County paramedics program, has until Nov. 30 to submit an emergency health care plan to comply with a 1980 regulation handed down by the state Department of Health.
The regulation mandates "two qualified medical persons should respond to ALS (advanced life support) calls)" for the patient's safety.
Currently, many rescue squads have their own paramedics who answer calls, some volunteer and some paid. Paramedics are certified to perform advanced life support, such as administering electric shock treatment.
Yet the change to comply with state law would also reduce the number of emergency vehicles — called "life- mobiles" — in the county from 11 to three, because area resque squads would not be provided with necessary medication and equipment. Under the change, the fully equipped lifemobiles would be stationed at Princeton Medical Center, Helene Fuld Medical Center and Hamilton Hospital.
About 20 county municipal officials and rescue squad workers met at the Helene Fuld Center Thursday to hear Dr. Leslie Ultan and other Helene Fuld representatives present the paramedics plan, Mr. Butterfoss said.
A Pennington Borough councilman, Mr. Butterfoss said he and other municipal representatives left the meeting Thursday "perplexed" and "angry."
"He (Dr. Ultan) did a very good job of snowing the people," said Mr. Butterfoss. "If he goes through with what he's planning, people are going to die," he predicted.
Mr. Butterfoss faulted Dr. Ultan and James Hutchinson, coordinator of the program, claiming they have not communicated properly with area rescue squads.
"It seems they are pulling the wool over a lot of people's eyes," said the 17-year rescue squad veteran.
Repeated attempts to contact Dr. Ultan and Mr. Hutchinson for comment have been unsuccessful.
Mr. Butterfoss said he supports a bill currently being considered in the State Assembly which would change the wording of the state regulation to allow an emergency medical technician (EMT) to accompany one paramedic on each call. He explained EMTs are not permitted to inject needles, but can be useful preparing the necessary tools, such as an intravenous tube. The councilman is a trained EMT.
Two full-time paramedics are not needed for every call in rural areas like the Hopewell Valley, Mr. Butterfoss asserted.
"Most of our calls are very simple calls," he said.
In addition to health care limitations, Mr. Butterfass said the proposal also has economic implications.
The number of paramedics in Mercer County has dwindled, according to Mr. Butterfoss, because some people will not do the job without getting paid.
And area rescue squads cannot afford to pay two full-time paramedics.
"If it wasn't for the volunteer squads, this lifemobile project would never have gotten off the ground," said Mr. Butterfoss.
He said a proposed $300,000 allocation for each of the county's three lifemobiles is much more than the amount of the vehicle's coat.
"Where is the rest of the money going to?" asked Mr. Butterfoss angrily.
He said he asked Mr. Hutchinson far a copy of the paramedics program budget, but his request was denied.
Moreover, he contended the new proposal could change a free service ta a $350 hospital fee for paramedic service in the county.
Hopewell Township Administrator James Davy, who also attended the meeting Thursday, concurred the explanations given by Helene Fuld officials were "confusing."
The township official said Monday the reduction of lifemobiles will surely have an impact on residents of the Hopewell Valley.
"It's taking a step backward," said 5 Mr. Davy.
In response to the county plan, Mr.' d Davy said Hamilton Mayor Jack Rafferty may call a Nov. 30 meeting of area municipalities to formulate a joint response to the state health department.
Mayor Rafferty could not be reached Monday for comment, "We (municipalities) have to develop our own response," said Mr. Davy.
But Mr. Butterfoss feels the solution might be a discussion between area 11 municipalities and Gov. Thomas Kean, who signed the regulation in 1980.