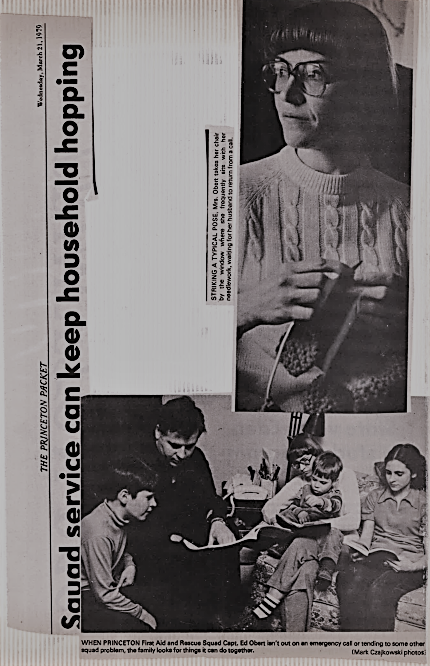 Princeton Packet
Wednesday, March 21, 1979
Squad service can keep household hopping
by Pam Hersh
Staff Writer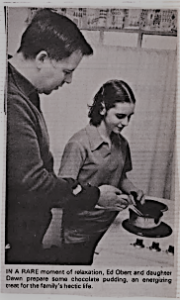 Edwin and Carol Obert and their three children (ages 15, 11, and 2 years) live on a shady street in Princeton in a cozy, middle class home. They have a television, stereo, and two cars. The father has a nine to five, Monday through Friday job as a mechanical technician. The mother news, embroiders, knits, cleans, and chauffeurs. The children are healthy and happily involved with school and church activities.
It all adds up to a sane, calm, perhaps a bit dull life style, right? Wrong.
Interrupted meals, sleepless nights, voices from a two-way radio, bleeps from a bleeper, bells from a telephone, people running in and out of the  house, stacks of papers and materials on the coffee table, jackets, emblems, and sheets strewn across the kitchen table, and a bewildered dog taking refuge in front of the fireplace, give a more accurate picture of the Obert household.
What makes the Obert's life "insane," "crazy," "hectic," "tense," in the words of Ed, Carol and their teenage daughter Dawn, is a sixth member of the family –  the Princeton First Aid and Rescue Squad.
ED OBERT joined the first aid squad in 1972. and "since that time our lives have never been the same." said Carol. In 1973, Ed was elected a line officer, and for the past three years he has been Captain, or chief line officer "The first aid squad amounts to another fulltime job for me. I spend at least 40 hours a week at the squad job. If I am not answering calls, I am on the phone, writing memos, or as I am in the process of now doing, rewriting the squad's constitution." said Mr. Obert.
In addition, Ed, like other squad members, performs functions not related to answering first aid calls, such as teaching CPR (Coronary. Pulmonary, Resuscitation) and first aid courses, filling compressed air tanks for the fire department and the oxygen tanks for the police department, and standing by at sporting events.
The squad responsibilities are a family affair for the Oberts. Mrs. Obert works on fund-raising, once she spent six days, 12 hours a day, with barely a peanut butter and jelly sandwich break, doing the fund-raising mailings. Carol sews emblems on the squad jackets, makes cot sheets, and docs "a whole variety of miscellaneous errands," she said.
FRIDAY NIGHTS, all the Oberts spend three to four hours cleaning the squad house. The squad pays the Oberts the usual custodial fee for the job, and the Oberts, in turn, donate the money to their church. "On squad cleaning nights, we don't get to eat dinner until 9:30 p.m The baby may get cranky, but it is a satisfying chore, because we are all doing something together as a family, and we are also helping the squad and the church," said Mrs. Obert.
Neighbors who have seen Mr. Obert leap from his front porch steps into his car at all hours of the day and night, ask Carol, "How does your family live like that?"
"Sometimes I wonder, myself," said Carol. "The constant noise from Ed's electronic equipment gets to me at times. Also, it never fails that Ed is always out on a call when my kids are sick and I need help in getting to the doctors or to the hospital. I can not remember the last time we have completed a dinner from beginning to end".
The "noise" that almost broke the Obert's marriage was one that occurred at 3 a.m. in their bedroom. "Suddenly, I heard a strange female's voice in the bedroom with Ed and me. Fortunately, I quickly realized that the voice was coming from Ed's pocket pager. I told him 'either she goes or I go.' She (the woman's voice) and the pocket pager went, and that was the last time I let Ed bring that piece of equipment into our bedroom."
MRS. OBERT, although she has CPR and first aid training and handles many aspects of fund-raising drive, is not a squad member.
Fifteen year old Dawn has threatened to "pick up, take the other two children, and leave the house," if her mother officially joins the squad.
"I couldn't stand to have both my mother and father jumping up and down during meals and running out of the house at any crazy hour. There's no way I am going to let mom do that," said Dawn.
But neither Dawn nor her mother would ask Ed to quit his responsibilities for the squad.
"I know how much the squad means to him. I have seen his elation, his high, when he has returned from a emergency call and has actually saved a person's life. It is a great source of satisfaction for him that I could never deprive him of. Plus the fact he is serving mankind in a way he best knows how. Yes, I have been angry, tense, upset by the havoc the squad brought to our lives, but I would never ask Ed to stop," said Carol.
ED IS "fully and painfully" aware of the sacrifices his family make for his first aid squad activities. "I enjoy the work so much, I find it so rewarding to help others. I try to share my sense of accomplishment with everyone in the family, and make them understand that they are also saving lives by being a supportive part of my life."
Ed admitted the squad "is somewhat of an ego trip," but one that benefits, rather than destroys, others.
Before the age of 30, Ed "never took much interest" in any volunteer activities, including the first aid squad. What changed Ed's attitude about community obligations was the Oberts' involvement in the Mormon Church.
Although Ed and Carol are Princeton area natives, they spent a few years in North Carolina, at which time the family was introduced to the Mormon philosophies.
One of the basic precepts of the church, explained Mr. Obert, is "helping people – all your brothers and sisters. I guess this concept has most influenced my enthusiasm for first aid squad work."
However, a second and "equally important Mormon belief is no success can compensate for a failure in the home," said Ed.
In Mr. Obert's case, the demands upon his life resulting from adherence to the first precept are hindering his ability to carry out the second. Ed said he is trying to reduce the number of hours he devotes to squad work in his search for the elusive happy medium.
---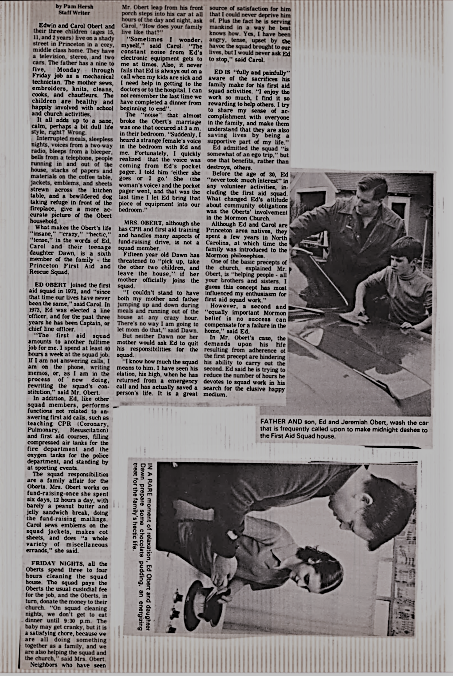 Photo Captions:
STRIKING A TYPICAL POSE. Mrs. Obert takes her chair by the window where she frequently sits with her needlework, waiting for her husband to return from a call
WHEN PRINCETON First Aid and Rescue Squad Capt. Ed Obert isn't on an emergency call or tending to some other squad problem, the family looks for things it can do together.
IN A RARE moment of relaxation, Ed Obert and daughter Dawn prepare chocolate pudding, an energizing treat for the family's hectic life.
FATHER AND son, Ed and Jeremiah Obert, wash the car that is frequently called upon to make midnight dashes to the First Aid Squad house.
(Mark Czejkowski photos)