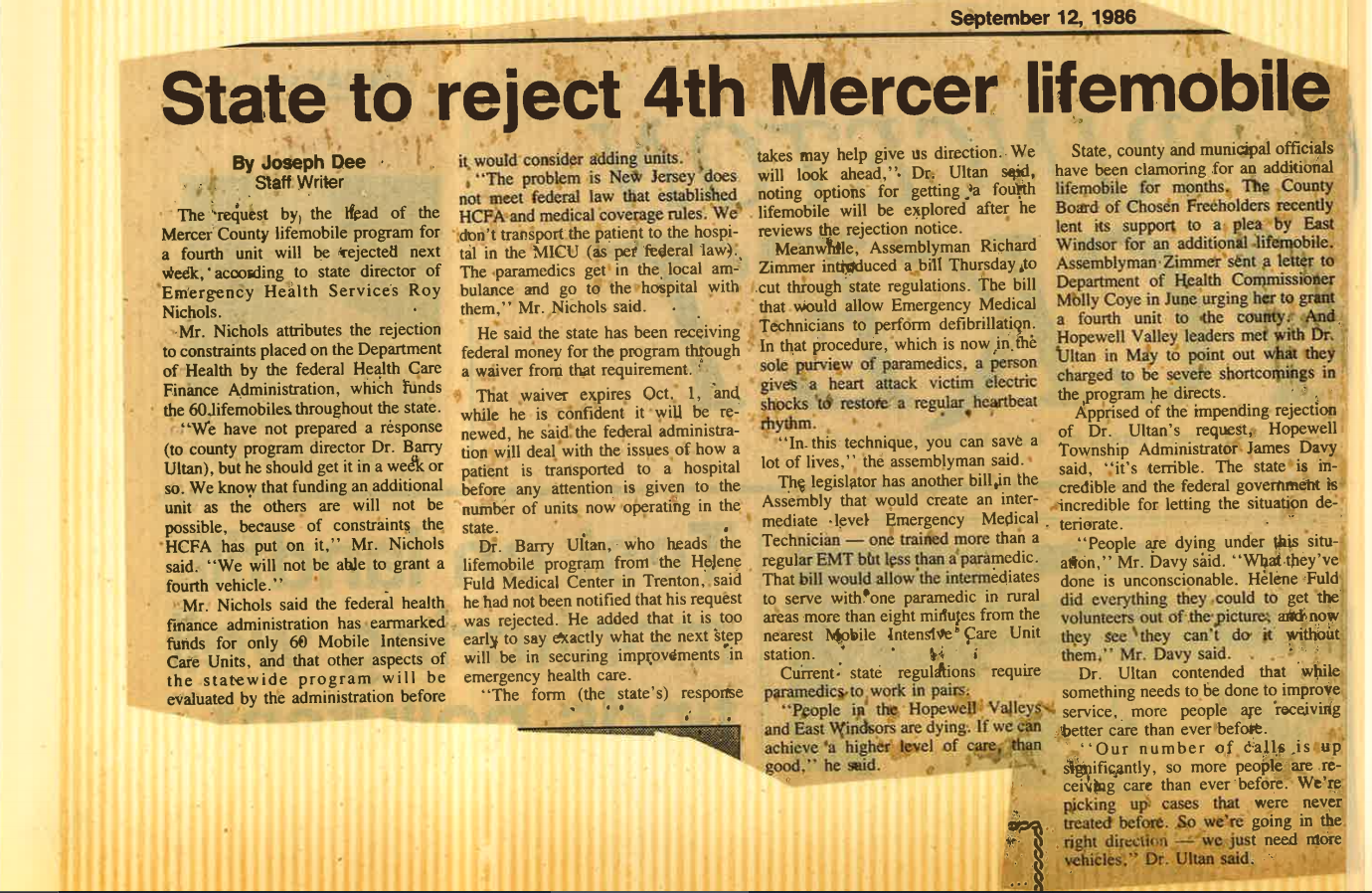 12 September, 1986
State to reject 4th Mercer lifemobile
By Joseph Dee
Staff Writer
The request by the head of the Mercer County lifemobile program for a fourth unit will be rejected next week, according to state director of Emergency Health Services Roy Nichols.
Mr. Nichols attributes the rejection to constraints placed on the Department of Health by the federal Health Care Finance Administration, which funds the 60 lifemobiles throughout the state.
"We have not prepared a response (to county program director Dr. Barry Ultan), but he should get it in a week or so. We know that funding an additional unit as the others are will not be possible, because of constraints the HCFA has put on it," Mr. Nichols said. "We will not be able to grant a fourth vehicle."
Mr. Nichols said the federal health finance administration has earmarked funds for only 60 Mobile Intensive Care Units, and that other aspects of the statewide program will be evaluated by the administration before it, would consider adding units.
"The problem is Nelk Jersey 'does not meet federal law that established. HCFA and medical coverage rules. We-don't transport the patient to the hospital in the MICU (as per federal law)., The paramedics get in the local ambulance and go to the hospital with them," Mr. Nichols said.
He said the state has been receiving federal money for the program through a waiver from that requirement.
That waiver expires Oct. 1, and while he is confident it will be renewed, he said the federal administration will deal with the issues of how a patient is transported to a hospital before any attention is given to the number of units now operating in the state.
Dr. Barry Ultan, who heads the lifemobile program from the Helene Fuld Medical Center in Trenton, said he had not been notified that his request was rejected. He added that it is too early to say exactly what the next step will be in securing improvements in emergency health care. "The form (the state's) response takes may help give us direction. We will look ahead,". Dr. Ultan said, noting options for getting a fourth lifemobile will be explored after he reviews the rejection notice.
Meanwhile, Assemblyman Richard Zimmer introduced a bill Thursday ito cut through state regulations. The bill that would allow Emergency Medical Technicians to perform defibrillation. In that procedure, which is now.in,the sole purview of paramedics. a person gives a heart attack victim electric shocks to restore a regular heartbeat rhythm.
"In this technique, you can save a lot of lives." the assemblyman said.
The legislator has another bill,in the Assembly that would create an intermediate level Emergency Medical Technician — one trained more than a regular EMT but less than a paramedic. That bill would allow the intermediates to serve with one paramedic in rural areas more than eight minutes from the nearest Mobile Intensive Care Unit station.
Current state regulations require paramedics to work in pairs.
"People in the Hopewell Valleys…. and East Windsors are dying. If we can achieve 'a higher level of care, than good." he said.
State, county and municipal officials have been clamoring for an additional lifemobile for months. The County Board of Chosen Freeholders recently lent its support to a plea by East Windsor for an additional  lifemobile. Assemblyman Zimmer sent a letter to Department of Health Commissioner Molly Coye in June urging her to grant a fourth unit to the county: And Hopewell Valley leaders met with Dr. than in May to point out what they charged to be severe shortcomings in the program he directs.
Apprised of the impending rejection of Dr. Ultan's request, Hopewell Township Administrator James Davy said, "it's terrible. The state is incredible and the federal government is incredible for letting the situation deteriorate.
"People are dying under this situation," Mr. Davy said. "What they've done is unconscionable. Helene Fuld did everything they could to get the volunteers out of the picture; and now they see they can't do it without them." Mr. Davy said.
Dr. Ultan contended that while something needs to be done to improve service, more people are 'receiving ' better care than ever before.
"Our number of calls is up significantly, so more people are receiving care than ever before. We're picking up cases that were never treated before. So we're going in the right — we just need more vehicles." Dr. Ultan said.