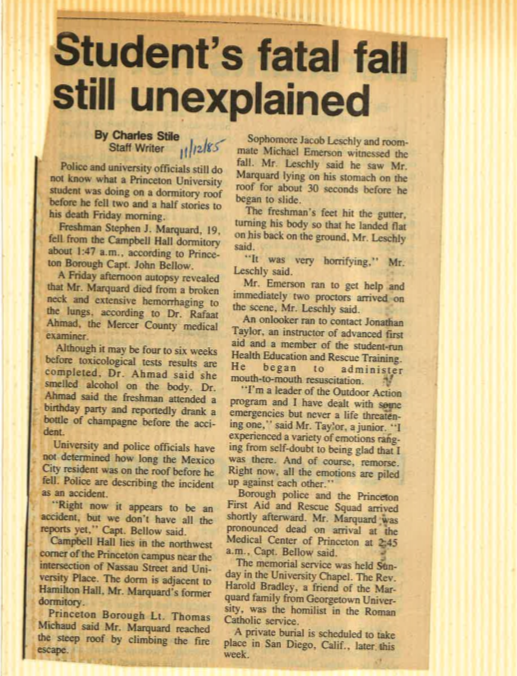 12 November, 1985
Student's fatal fall still unexplained
By Charles Stile
Staff Writer
Police and university officials still do not know what a Princeton University student was doing on a dormitory roof before he fell two and a half stories to his death Friday morning.
Freshman Stephen J. Marquard, 19, fell from the Campbell Hall dormitory about 1:47 a.m., according to Princeton Borough Capt. John Bellow.
A Friday afternoon autopsy revealed that Mr. Marquard died from a broken neck and extensive hemorrhaging to the lungs, according to Dr. Rafaat Ahmad,  the Mercer County medical examiner.
Although it may be four to six weeks before toxicological tests results are completed. Dr. Ahmad said she smelled alcohol on the body. Dr. Ahmad said the freshman attended a birthday party and reportedly drank a bottle of champagne before the accident.
University and police officials have not determined how long the Mexico City resident was on the roof before he fell. Police arc describing the incident as an accident.
"Right now it appears to be an accident. but we don't have all the reports yet." Capt. Bellow said. Campbell Hall lies in the northwest corner of the Princeton campus near the intersection of Nassau Street and University Place. The dorm is adjacent to Hamilton Hall. Mr. Marquard's former dormitory. Princeton Borough Lt. Thomas Michaud said Mr. Marquard reached the steep roof by climbing the fire escape.
Sophomore Jacob Leschly and roommate Michael Emerson witnessed the fall. Mr. Leschly said he saw Mr. Marquard lying on his stomach on the roof for about 30 seconds before he began to slide.
The freshman's feet hit the gutter. turning his body so that he landed flat on his back on the ground. Mr. Leschly said.
"It was very horrifying." Mr. Leschly said.
Mr. Emerson ran to get help and immediately two proctors arrived on the scene, Mr. Leschly said.
An onlooker ran to contact Jonathan Taylor. an instructor of advanced first aid and a member of the student-run Health Education and Rescue Training. He began to administer mouth-to-mouth resuscitation.
"I'm a leader of the Outdoor Action program and I have dealt with some emergencies but never a life threatening one," said Mr. Taylor, a junior. "I experienced a variety of emotions ranging from self-doubt to being glad that I was there. And of course, remorse. Right now, all the emotions are piled up against each other."
Borough police and the Princeton First Aid and Rescue Squad arrived shortly afterward. Mr. Marquard was pronounced dead on arrival at the Medical Center of Princeton at 2:45 a.m., Capt. Bellow said.
The memorial service was held Sunday in the University Chapel. The Rev. Harold Bradley, a friend of the Marquard family from Georgetown University, was the homilist in the Roman Catholic service.
A private burial is scheduled to take place in San Diego. Calif., later this week.