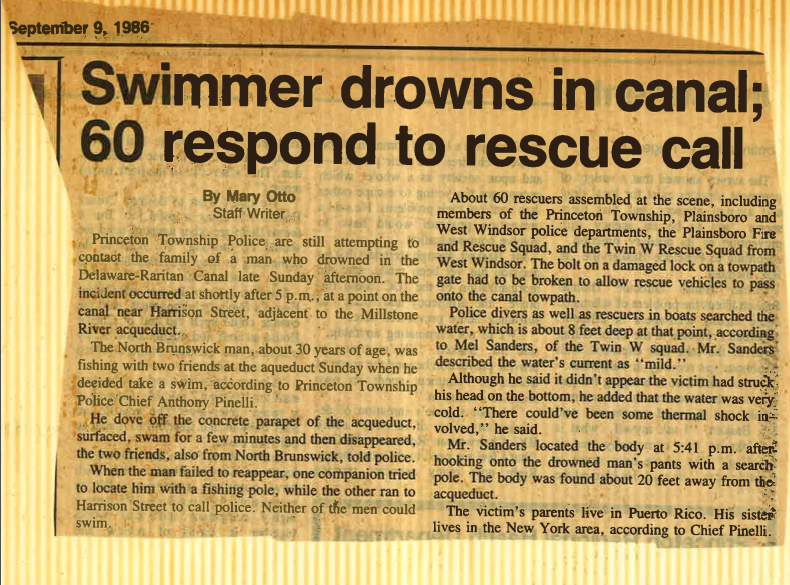 9 September, 1986
Swimmer drowns in canal; 60 respond to rescue call
By Mary Otto
Staff Writer
Princeton Township Police are still attempting to contact the family of a man who drowned in the Delaware-Raritan Canal late Sunday afternoon. The incident occurred at shortly after 5 p.m., at a point on the canal near Harrison Street, adjacent to the Millstone River aqueduct.
Tbe North Brunswick man, about 30 years of age, was fishing with two friends at the aqueduct Sunday when he decided take a swim, according to Princeton Township Police Chief Anthony Pinelli.
He dove off the concrete parapet of the aqueduct, surfaced, swam for a few minutes and then disappeared, the two friends, also from North Brunswick, told police.
When the man failed to reappear, one companion tried to locate him with a fishing pole, while the other ran to Harrison Street to call police. Neither of the men could swim.
About 60 rescuers assembled at the scene, including members of the Princeton Township, Plainsboro and West Windsor police departments, the Plainsboro Fare and Rescue Squad, and the Twin W Rescue Squad from West Windsor. The bolt on a damaged lock on a towpath gate had to be broken to allow rescue vehicles to pass onto the canal towpath.
Police divers as well as rescuers in boats searched the water, which is about 8 feet deep at that point, according, to Mel Sanders, of the Twin W squad. Mr. Sanders described the water's current as "mild."
Although he said it didn't appear the victim had struck: his head on the bottom, he added that the water was very' cold. "There could've been some thermal shock is volved," he said.
Mr. Sanders located the body at 5:41 p.m. after hooking onto the drowned man's pants with a search: pole. The body was found about 20 feet away from the aqueduct.
The victim's parents live in Puerto Rico. His sister lives in the New York area, according to Chief Pinelli.