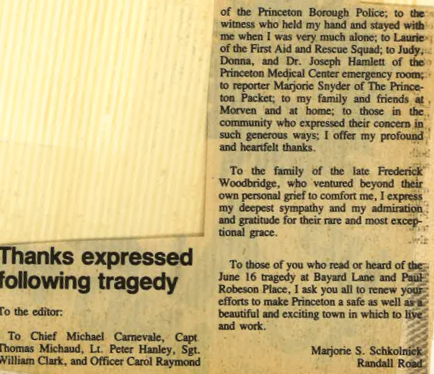 24, June 1986
Thanks expressed following tragedy 
To the editor: 
To Chief Michael Carnevale, Capt. Thomas Michaud, Lt. Peter Hanky, Sgt. William Clark, and Officer Carol Raymond of the Princeton Borough Police; to the witness who held my hand and stayed with me when I was very much alone; to Laurie of the First Aid and Rescue Squad; to Judy, Donna, and Dr. Joseph Hamlett of the Princeton Medical Center emergency room; to reporter Marjorie Snyder of The Princeton Packet; to my family and friends at Morven and at home; to those in the community who expressed their concern in such generous ways; I offer my profound and heartfelt thanks. 
To the family of the late Frederick Woodbridge, who ventured beyond their own personal grief to comfort me, I express my deepest sympathy and my admiration and gratitude for their rare and most exceptional grace. 
To those of you who read or heard of the June 16 tragedy at Bayard Lane and Paul Robeson Place, I ask you all to renew your efforts to make Princeton a safe as well as a beautiful and exciting town in which to live and work.
Marjorie S. Schkolnick
  Randall Road