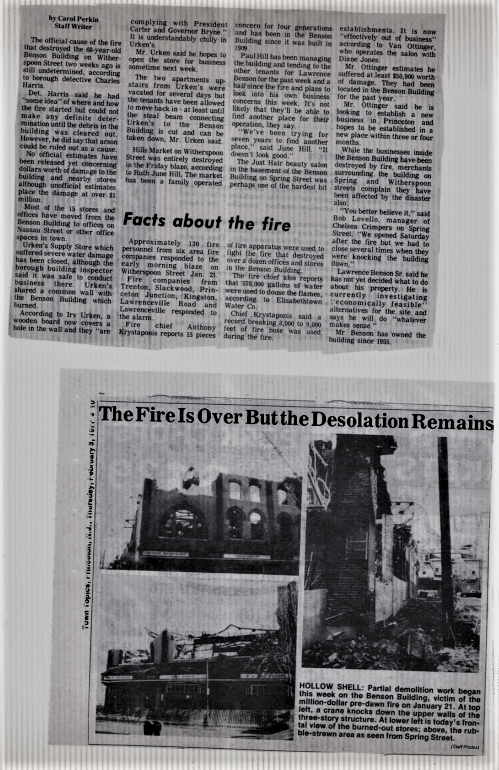 Town Topics
9 February 1977
The Fire Is Over But the Desolation Remains
by Carol Perkin
Staff Writer
The official cause of the fire that destroyed the 68-year-old Benson Building on Witherspoon Street two weeks ago is still undetermined, according to borough detective Charles Harris.
Det. Harris said he had "some idea" of where and how the fire started but could not make any definite determination until the debris in the building was cleared out. However, he did say that arson could be ruled out as a cause.
No official estimates have been released yet concerning dollars worth of damage to the building and nearby stores although unofficial estimates place the damage over $1 million.
Most of the 15 stores and offices have moves from the Benson Building to offices on Nassau Street or other office spaces in town.
Urken's Supply Store which suffered severe water damage has been closed, although the borough building inspector said it was safe to conduct business there. Urken's shared a common wall with the Benson Building which burned.
According to Irv Urken, a wooden board now covers a hole in the wall and they "are complying with President Carter and Governor Bryne." It is understandably chilly in Urken's.
Mr. Urken said he hopes to open the store for business sometime next week.
The two apartments upstairs from Urken's were vacated for several days but the tenants have been allowed to move back in – at least until the steal been connecting Urken's to the Benson Building is cut and can be taken down, Mr. Urken said.
Hill Market on Witherspoon Street was entirely destroyed in the Friday blaze, according to Ruth June Hill. The market has been a family operated concern for four generations and has been in the Benson Building since it was built in 1909.
Paul Hill has been managing the building and tending to the other tenants for Lawrence Benson for the past week and a half since the fire and plans to look into his own business concerns this week. It's not likely that they'll be able to find another place for their operation, they say.
"We've been trying for seven years to find another place," said June Hill. "It doesn't look good."
The Just Hair beauty salon in the basement of the Benson Building on Spring Street was perhaps one of the hardest hit establishments. It is now "effectively out of business" according to Van Ottinger, who operated the salon with Diane Jones.
Mr. Ottinger estimates he suffered at least $20,000 worth of damage. They had been located in the Benson Building for the past year.
Mr. Ottinger said he is looking to establish a new business in Princeton and hopes to be established in a new place within three or four months.
While the businesses inside the Benson Building have been destroyed by fire, merchants surrounding the building on Spring and Witherspooon Streets complain they have been affected by the disaster also.
"You better believe it," said Bob Lovello, manager of Chelsea Crimpers on spring Street. "We opened Saturday after the fire but we had to close several times when they were knocking the building down."
Lawrence Benson Sr. said he has not yet decided what to do about his property. He is currently investigating "economically feasible" alternatives for the site and says he will do "whatever makes sense."
Mr. Benson has owned the building since 1955.
---
Picture Caption:
HOLLOW SHELL: Partial demolition work began this week on the Benson Building, victim of the million-dollar pre-dawn fire on January 21. At top left, a crane knocks down the upper walls of the three-story structure. At lower left is today's frontal view of the burned-out stores; above, the rubble-strewn area as seen from Spring Street.