Town Topics
25 November 1981
Topics of the Town
2 CYCLISTS STRUCK In Separate Accidents. Two bicyclists have been struck by cars in the Borough in
Continued on Next Page
Topics of the Town
Continued from Page 5
separate accidents, bringing minor injury to both riders.
Tuesday morning at 10:24, Carolyn A. Kidd, 24, 54 Murray Place, ran into a car attempting to enter Nassau Street from the Mobil Station next to Olden Lane. She was taken by a First Aid Squad ambulance to Princeton Medical Center for treatment of a bruised left knee.
The driver, Richard Hanrath, 65, 72 Hart Avenue, Hopewell, charged with improperly entering a highway by PU. Michael Taylor, told police that he had looked both ways "but never saw her coming.
Ms. Kidd, who was riding on the sidewalk, told Ptl. Taylor that "sometimes it's really hard to see. I just didn't see him." The officer noted that the view of both had been blocked by a large Blazer truck parked in the service station lot.
---
Twenty-two-year-old Jody White. 206 Witherspoon Street, was struck Saturday morning at 10 at the intersection of Moore Street and Wiggins.
The driver, Henry L. Werner, 49, 190 Moore Street, ted stopped at the intersection and then proceeded across Wiggins where the impact occurred. He was ticketed by Ptl. Mark Stillitano for failing to yield after stopping at a stop sign.
Ms. White was taken by ambulance to the Medical Center where she was treated for a laceration of th'e left elbow and released. She was riding along the right side of the Wiggins Street roadway when the accident occurred.
---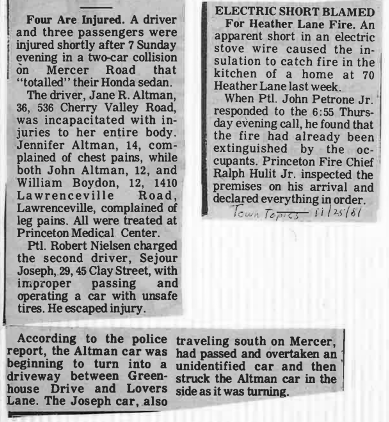 Four Are Injured. A driver and three passengers were injured shortly after 7 Sunday evening in a two-car collision on Mercer Road that "totaled" their Honda sedan.
The driver, Jane R. Altman, 36. 536 Cherry Valley- Road, was incapacitated with injuries to her entire body. Jennifer Altman. 14, complained of chest pains, while
h John Altman, 12, and William Boydon, 12, 1410 Lawrenceville Road, Lawrenceville, complained of leg pains. All were treated at Princeton Medical Center.
Ptl. Robert Nielsen charged the second driver, Sejour Joseph, 29,45 Clay Street, with improper passing and operating a car with unsafe tires. He escaped injury.
According to the police report, the Altman car was beginning to turn into a driveway between Greenhouse Drive and Lovers Lane. The Joseph car, also traveling south on Mercer, had passed and overtaken an unidentified car and then struck the Altman car in the side as it was turning.
---
ELECTRIC SHORT BLAMED
For Heather Lane Fire. An apparent short in an electric stove wire caused the insulation to catch fire in the kitchen of a home at 70 Heather Lane last week.
When PU. John Petrone Jr. responded to the 6:55 Thursday evening call, he found that the fire had already been extinguished by the occupants. Princeton Fire Chief Ralph Hulit Jr. inspected the premises on his arrival and declared everything in order.