Town Topics
11 November 1981
Topics of the Town
WOMAN STRUCK BY CAR While Raking Leaves. An elderly Township woman was struck by a car Sunday morning while she was raking leaves at the edge of the
Greenway Terrace roadway between Brookstone Drive and Wendover Drive.
Margaret Frederiksen of 40 Brookstone Drive was treated at Princeton Medical Center for a fractured leg and concussion. The driver, Gail E. Kohn, 30 , 34 Puritan Court, was ticketed by Ptl. Renn Kaminski for careless driving. She told the officer that she did not see the victim.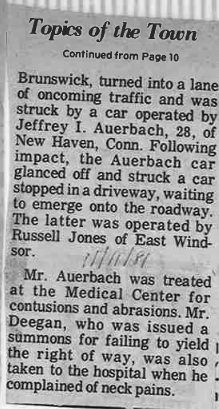 Three-Car Collision. There was a three-car collision shortly after noon Saturday at Route 20 and cherry Hill Road John Deegan, 57, of East
Continued on Next Page
Topics of the Town
Continued from Page 10
Brunswick, turned into a lane of oncoming traffic and was struck by a car operated by Jeffrey I. Auerbach, 28, of New Haven, Conn. Following impact, the Auerbach car glanced off and struck a car stopped in a driveway, waiting to emerge onto the roadway. The latter was operated by Russell Jones of East Windsor.
Mr. Auerbach was treated at the Medical Center for contusions and abrasions. Mr. Deegan, who was issued a summons for failing to yield the right of way, was also taken to the hospital when he complained of neck pains.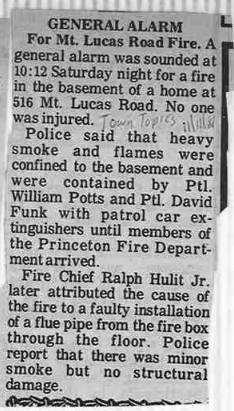 GENERAL ALARM
For Mt. Lucas Road Fire. A general alarm was sounded at 10:12 Saturday night for a fire in the basement of a home at 516 Mt. Lucas Road. No one was injured. , ;
Police said that heavy smoke and flames were confined to the basement and were contained by Ptl. William Potts and Ptl. David Funk with patrol car extinguishers until members of the Princeton Fire Department arrived.
Fire Chief Ralph Hulit Jr. later attributed the cause of the fire to a faulty installation of a flue pipe from the fire box . through the floor. Police report that there was minor smoke but no structural damage.
---
Town Topics
18 November 1981
Topics of the Town
DRIVER IS CHARGED In Rear End Collision.
Kenneth L. Verbeyst, 23, 376 Carter Road, has been charged with careless driving, after he skidded into the rear of a car on Washington Road that had stopped for the Faculty Road light. The driver of the other car, Teri M. Nachtman, 27 of Hightstown, and Judy Davison and Patricia Rice, both of Hightstown, all complained of neck pains. Both cars had to be towed from the scene following the Sunday afternoon mishap.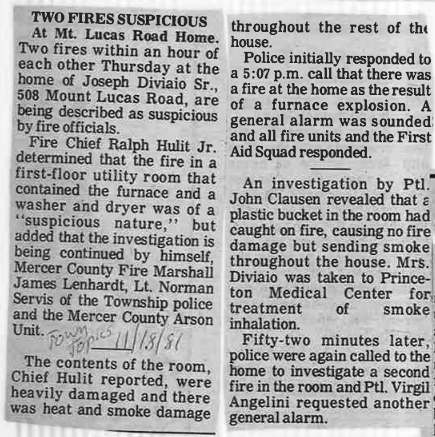 TWO FIRES SUSPICIOUS
At Mt. Lucas Road Home. Two fires within an hour of each other Thursday at the
home of Joseph Diviaio Sr., 508 Mount Lucas Road, are being described as suspicious by fire officials.
Fire Chief Ralph Hulit Jr. determined that the fire in a first-floor utility room that
contained the furnace and a washer and dryer was of a "suspicious nature," but
added that the investigation is being continued by himself, Mercer County Fire Marshall James Lenhardt, Lt. Norman Servis of the Township police and the Mercer County Arson Unit.
The contents of the room, Chief Hulit reported, were heavily damaged and there was heat and smoke damage throughout the rest of the house.
Police initially responded to a 5:07 p.m. call that there was a fire at the home as the result of a furnace explosion. A general alarm was sounded and all fire units and the First Aid Squad responded.
An investigation by Ptl. John Clausen revealed that z plastic bucket in the room had caught on fire, causing no fire damage but sending smoke throughout the house. Mrs. Diviaio was taken to Princeton Medical Center for treatment of smoke inhalation.
Fifty-two minutes later, police were again called to the home to investigate a second fire in the room and Ptl. Virgil Angelini requested another general alarm.