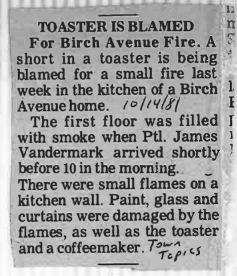 Town Topics
14 October 1981
Toaster is Blamed
For Birch Avenue Fire. A short in a toaster is being blamed for a small fire last week in the kitchen of a Birch 1 Avenue home.
The first floor was filled with smoke when Ptl. James Vandermark arrived shortly before 10 in the morning.
There were small flames on a kitchen wall. Paint, glass and curtains were damaged by the flames, as well as the toaster and a coffeemaker.
---

Town Topics
14 October 1981
Two Cars Totalled
In the Township early last week, two cars, a 1971 sports car and a 1970 sedan, were judged total losses, after they collided during a turning accident at Route 206 and Cherry Hill Road. Both drivers were injured.
Bradford A. Davis, 21, 29 W. Church Street, Lawrenceville, was charged with failure to yield at an intersection by Ptl. John Petrone Jr. He was treated at Princeton Medical Center for lacerations of the face. The second driver, Paul Veva. 21. 38 Chestnut Street, sustained a fractured leg.
According to police, the Davis car was heading south on 206 behind another car. They had almost stopped as
Continues on Page 12
Topics of the Town
Continued from Page 10
they approached the stop light, when the light turned yellow and the Davis car attempted to turn. It was struck by the Veva car traveling in the opposite direction. Mr. Davis told police that he did not see the car until they hit.
---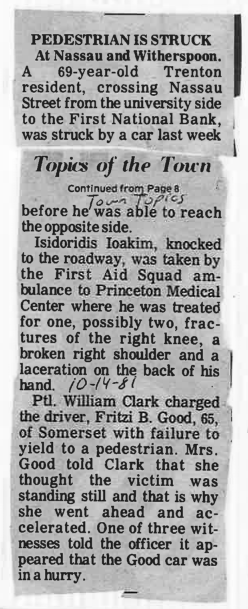 Town Topics
14 October 1981
Pedestrian is Struck
At Nassau and Witherspoon.
A 69-year-old Trenton resident, crossing Nassau Street from the university side to the First National Bank, was struck by a car last week
Topics of the Town
Continued from Pgpe 8
before he was able to reach the opposite side.
Isidoridis Ioakim, knocked to the roadway, was taken by the First Aid Squad ambulance to Princeton Medical Center where he was treated for one, possibly two, fractures of the right knee, a broken right shoulder and a laceration on the back of his hand.
Ptl. William Clark charged the driver. Fritzi B. Good, 65, of Somerset with failure to yield to a pedestrian. Mrs. Good told Clark that she thought the victim was standing still and that is why she went ahead and accelerated. One of three witnesses told the officer it appeared that the Good car was in a hurry.
---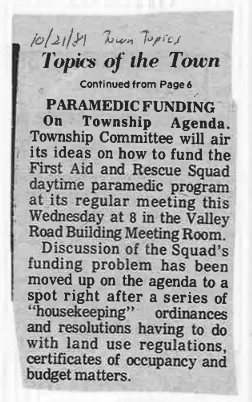 Town Topics
21 October 1981
Paramedic Funding
Topics of the Town
Continued from Page 6
PARAMEDIC FUNDING On Township Agenda. Township Committee will air its ideas on how to fund the First Aid and Rescue Squad daytime paramedic program at its regular meeting this Wednesday at 8 in the Valley Road Building Meeting Room.
Discussion of the Squad's funding problem has been moved up on the agenda to a spot right after a series of "housekeeping" ordinances and resolutions having to do with land use regulations, certificates of occupancy and budget matters.