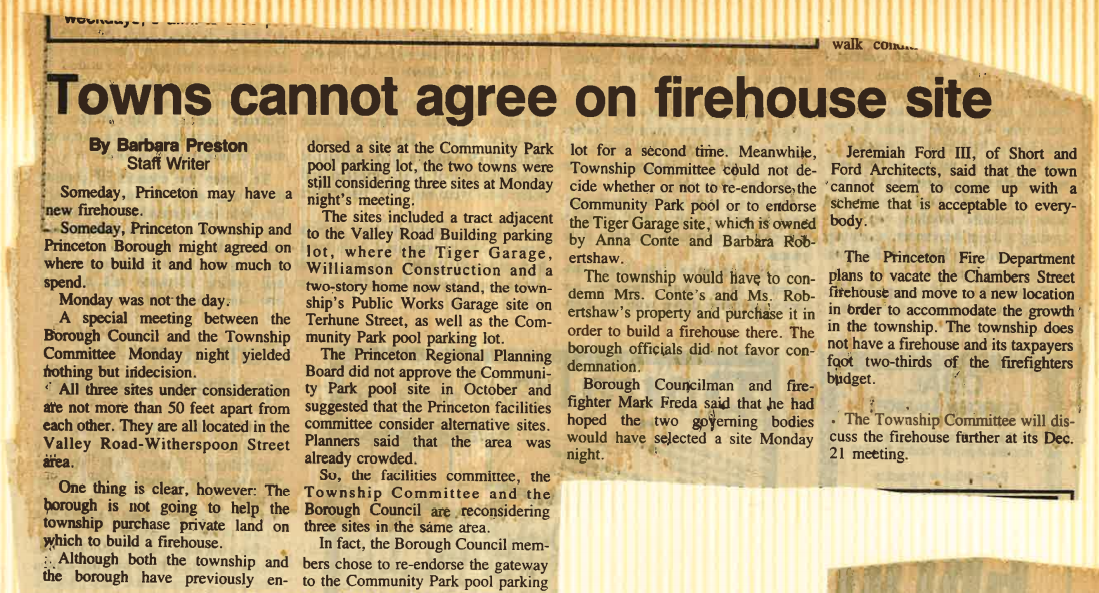 10 December, 1987 (~estimated)
Towns cannot agree on firehouse site
Someday, Princeton may have a new firehouse.
Someday, Princeton Township and Princeton Borough might agreed on where to build it and how much to spend.
Monday was not-the day.
A special meeting between the Borough Council and the Township Committee Monday night yielded nothing but indecision.
All three then under consideration are not more than 50 feet apart from each other. They are all located in the Valley Road-Witherspoon Street area.
One thing is clear, however: The borough is con going to help the township purchase private land on which to build a firehouse. Although both the township and the borough have previously endorsed a site at the Community Park pool parking lot, the two towns were still considering three sites at Monday night's meeting.
The sites included a tract adjacent to the Valley Road Building parking lot, where the Tiger Garage, Williamson Construction and a two-story home now stand, the town-ship's Public Works Garage site on Terhune Street, as well as the Community Park pool parking lot.
The Princeton Regional Planning Board did not approve the Community Park pool site in October and suggested that the Princeton facilities committee consider alternative sites. Planners said that the area was already crowded.
So, the facilities committee, the Township Committee and the Borough Council are reconsidering three sites in the same area.
In fact, the Borough Council members chose to re-endorse the gateway to the Community Park pool parking or to for a second time. Meanwhile, Township Committee could not decide whether or not to re-endorse,the Community Park pool or to endorse the Tiger Garage site, which is owned by Anna Conte and Barbara Robertshaw.
The township would have to condemn Mrs. Conte's and Ms. Robertshaw's property and purchase it in order to build a firehouse there. The borough officials did not favor condemnation.
Borough Councilman and fire-fighter Mark Freda said that he had hoped the two governing bodies would have selected a site Monday night.
Jeremiah Ford III, of Short and Ford Architects, said that the town 'cannot seem to come up with a scheme that is acceptable to everybody.
The Princeton Fire Department plans to vacate the Chambers Street firehouse and move to a new location in order to accommodate the growth' in the township. The township does not have a firehouse and its taxpayers factor two-thirds of the firefighters budget.
The Township Committee will discuss the firehouse further at its Dec. 21 meeting.