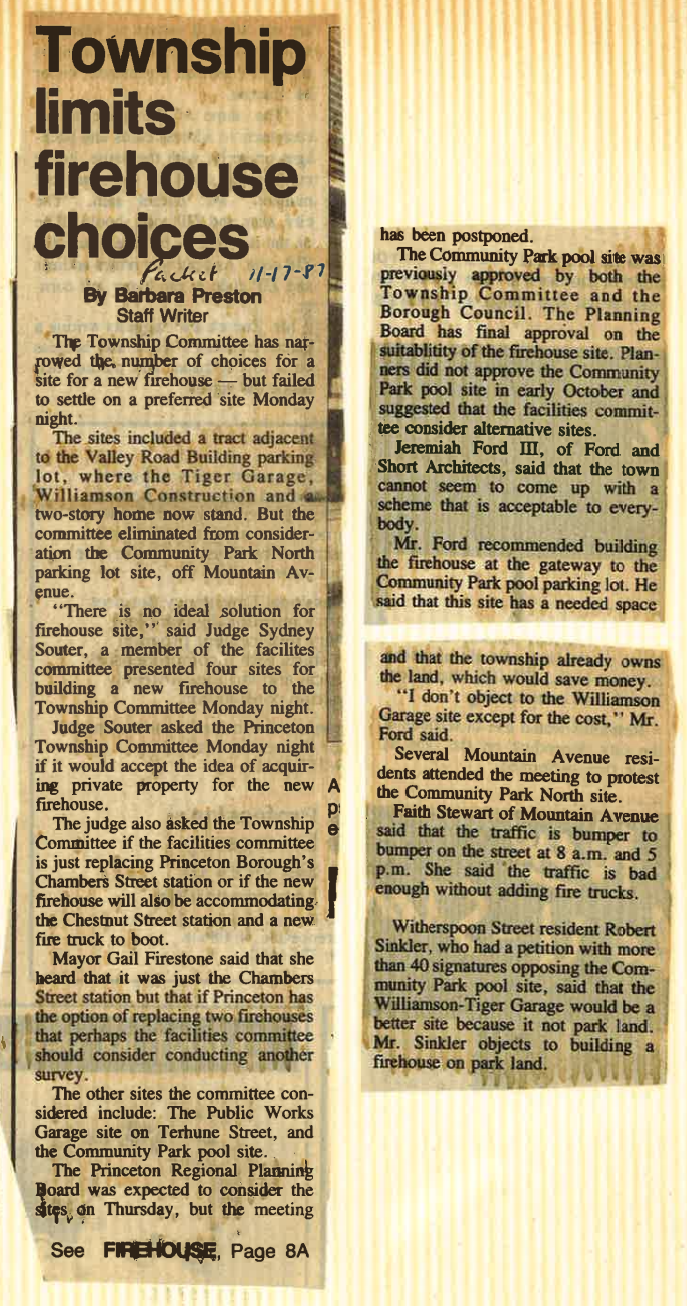 Princeton Packet
17 November, 1987
Township limits firehouse choices
By Barbara Preston
Staff Writer
The Township Committee has narrowed the number of choices for a site for a new firehouse — but failed to settle on a preferred site Monday night.
The sites included a tract adjacent to the Valley Road Building parking lot, where the Tiger Garage, Williamson Construction and two-story home now stand. Bt the committee eliminated from consideration the Community Park North parking lot site, off Mountain Avenue.
"There is no ideal solution for firehouse site," said Judge Sydney Souter, a member of the facilities committee presented four sites for building a new firehouse to the Township Committee Monday night.
Judge Souter asked the Princeton Township Committee Monday night if it would accept the idea of acquiring private property for the new firehouse.
The judge also asked the Township Committee if the facilities committee is just replacing Princeton Borough Chambers Street station or if the new firehouse will also be accomodating the Chestnut Street station and a new fire truck to boot.
Mayor Gail Firestone said that she heard that it was just the Chambers Street station but that if Princeton has the option of replacing two firehouses that perhaps the facilities committee should consider conducting another survey.
The other sites the committee considered include: The Public Works Garage site on Terhune Street, and the Community Park Pool site.
The Princeton Regional Planning Board was expected to consider the sites on Thursday, but the meeting has been postponed.
The Community Park pool site was previously approved by both the Township Committee and the Borough Council. The Planning Board has final approval on the suitability of the firehouse site. Planners did not approve the Community Park pool site in early October and suggested that the facilities committee consider alternatives sites.
Jeremiah Ford III, of Ford and Short Architects, said that the town cannot seem to come up with a scheme that is acceptable to everybody.Mr.Ford recommended building the firehouse at the gateway to the Community Park pool parking lot. He said that this sit has a needed space and that the township already owns the land, which would save money.
"I don't object to the Williamson Garage site except for the cost,"Mr.Ford said.
Several Mountain Avenue residents attended the meeting to protest the Community Park North site.
Faith Stewart of Mountain Avenue said that the traffic is bumper to bumper on the street at 8am and 5pm She said the traffic is bad enough without adding fire trucks.
Witherspoon Street resident Robert Sinkler, who had a petition with more than 40 signatures opposing the Community Park pool site, said that the Williamson-Tiger Garage would be a better site because it not park land. Mr.Sinkler objects to building a firehouse on park land.