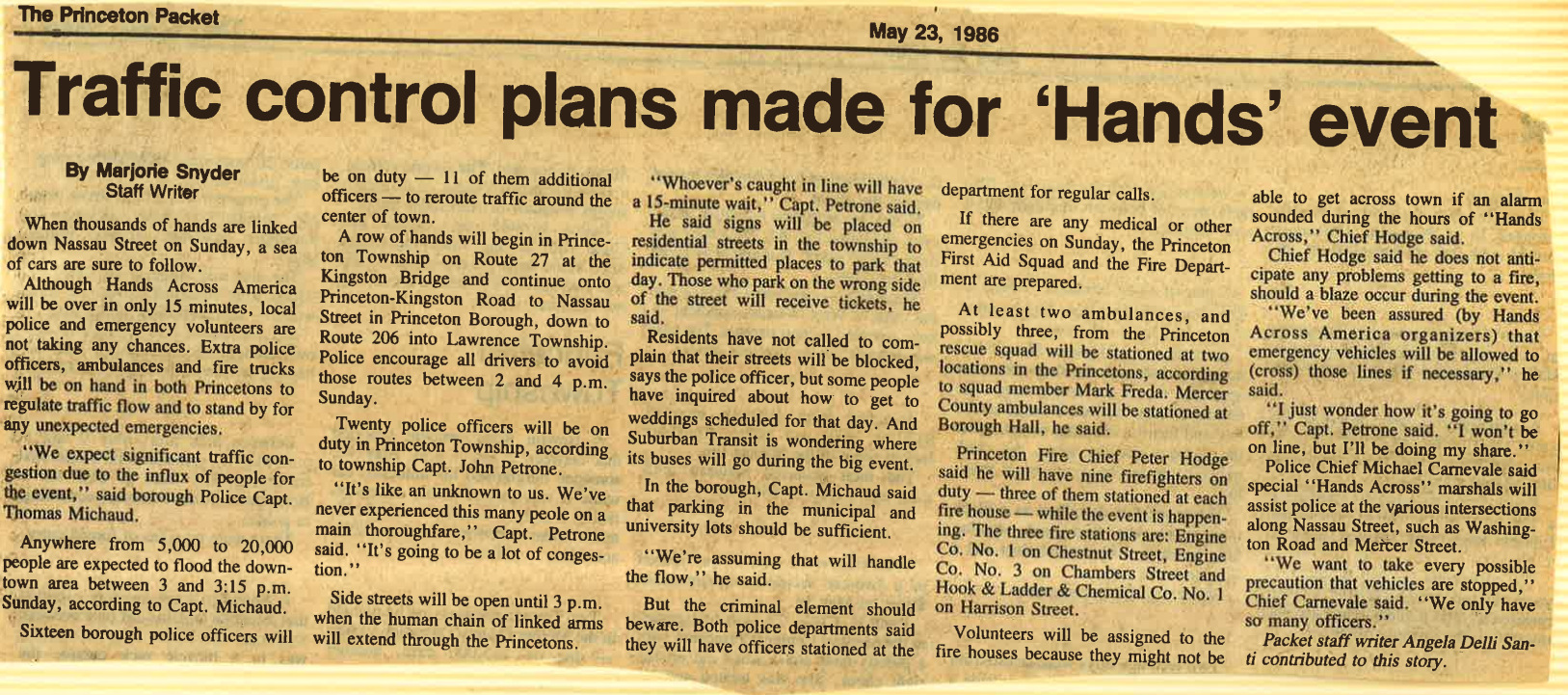 The Princeton Packet 
May 23, 1986 
Traffic control plans made for 'Hands' event 
By Marjorie Snyder
 Staff Writer 

When thousands of hands are linked down Nassau Street on Sunday, a sea of cars are sure to follow. 
Although Hands Across America will be over in only 15 minutes, local police and emergency volunteers are not taking any chances. Extra police officers, ambulances, and firetrucks will be on hand in both Princetons to regulate traffic flow and to stand by for any unexpected emergencies. 
"We expect significant traffic congestion due to the influx of people for the event," said borough Police Capt. Thomas Michaud. 
Anywhere from 5,000 to 20,000 people are expected to flood the downtown area between 3 and 3:15 p.m. Sunday, according to Capt. Michaud. 
Sixteen borough police officers will be on duty — 11 of them additional officers — to reroute traffic around the center of town. 
A row of hands will begin in Princeton Township on Route 27 at the Kingston Bridge and continue onto Princeton-Kingston Road to Nassau Street in Princeton Borough, down to Route 206 into Lawrence Township. Police encourage all drivers to avoid those routes between 2 and 4 p.m. Sunday.
Twenty police officers will be on duty in Princeton Township, according to township Capt. John Petrone. "It's like an unknown to us. We've never experienced this many people on a main thoroughfare," Capt. Petrone said. "It's going to be a lot of congestion." 
Side streets will be open until 3 p.m. when the human chain of linked arms will extend through the Princetons. 
"Whoever's caught in line will have a 15-minute wait," Capt. Petrone said. 
He said signs will be placed on residential streets in the township to indicate permitted places to park that day. Those who park on the wrong side of the street will receive tickets, he said.
Residents have not called to complain that their streets will be blocked, says the police officer, but some people have inquired about how to get to weddings scheduled for that day. And Suburban Transit is wondering where its buses will go during the big event. 
In the borough, Capt. Michaud said that parking in the municipal and university lots should be sufficient. 
"We're assuming that will handle the flow," he said.
But the criminal element should beware. Both police departments said they will have officers stationed at the department for regular calls.
If there are any medical or other emergencies on Sunday, the Princeton First Aid Squad and the Fire Department are prepared. 
At least two ambulances, and possibly three, from the Princeton rescue squad will be stationed at two locations in the Princetons, according to squad member Mark Freda. Mercer County ambulances will be stationed at Borough Hall, he said. 
Princeton Fire Chief Peter Hodge said he will have nine firefighters on duty — three of them stationed at each firehouse — while the event is happening. The three fire stations are: Engine Co. No. 1 on Chestnut Street, Engine Co. No. 3 on Chambers Street, and Hook & Ladder & Chemical Co. No. 1 on Harrison Street. 
Volunteers will be assigned to the firehouses because they might not be able to get across town if an alarm sounded during the hours of "Hands Across," Chief Hodge said.
Chief Hodge said he does not anticipate any problems getting to a fire should a blaze occur during the event. 
"We've been assured (by Hands Across America organizers) that emergency vehicles will be allowed to (cross) those lines if necessary," he said.
"I just wonder how it's going to go off," Capt. Petrone said. "I won't be on line, but I'll be doing my share." 
Police Chief Michael Carnevale said special "Hands Across" marshals will assist police at the various intersections along Nassau Street, such as Washington Road and Mercer Street. 
"We want to take every possible precaution that vehicles are stopped," Chief Carnevale said. "We only have so many officers." 
Packet staff writer Angela Delli Santi contributed to this story