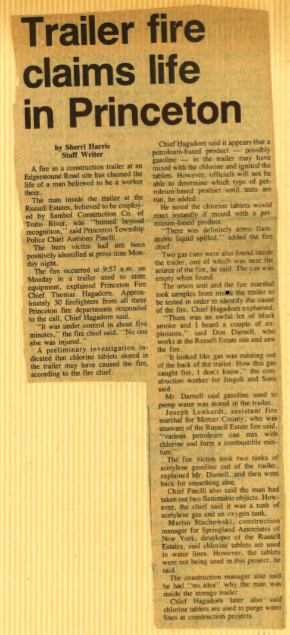 20 June 1985 (estimated)
Trailer Fire Claims Life in Princeton
by Sherri Harris
Staff Writer
A fire in a construction trailer at an Edgerstoune Road site has claimed the life of a man believed to be a worker there. The man inside the trailer at the Russell Estates, believed to be employed by Sambol Construction Co. of Toms River, was "burned beyond recognition," said Princeton Township Police Chief Anthony Pinelli.
The burn victim occurred at 9:57 a.m. on Monday in a trailer used to store equipment, explained Princeton Fire Chief Thomas Hagadorn. Approximately 30 firefighters from all three Princeton fire departments responded to the call, Chief Hagadorn said.
"It was under control in about five minutes," the fire chief said. "No one else was injured."
A preliminary investigation indicated that chlorine tablets stored in the trailer may have caused the fire, according to the fire chief.
Chief Hagadorn said it appears that a petroleum-based product-possibly gasoline-in the trailer may have mixed with the chlorine and ignited the tablets. However, officials will not be able to determine which type of petroleum-based product until tests are run, he added.
He noted the chlorine tablets would react instantly if mixed with a petroleum based product.
"There was definitely some flammable liquid spilled." added the fire chief.
Two gas cans were also found inside the trailer, one of which was near the source of the fire, he said. The can was empty when found.
The arson unit and the fire marshal took samples from inside the trailer to be tested in order to identify the cause of the fire, Chief Hagadorn explained.
"There was an awful lot of black smoke and I heard a couple of explosions," said Don Darnell, who works at the Russell Estate site and saw the fire.
"It looked lie gas was running out of the back of the trailer. How this gas caught fire, I don't know, " the construction worker for Jingoli and Sons said.
Mr.Darnell said gasoline used to pump water was stored in the trailer.
Joseph Lenhardt, assistant fire marshal for Mercer County, who was unaware of the Russell Estate fire said, "various petroleum can mixture."
The fire victim took two tanks of acetylene gasoline out of the trailer, explained Mr.Darnell, and then went back for something else.
Chief Pinclli also said the man had taken out two flammable objects. However, the chief said it was a tank of acetylene and an oxygen tank.
Martin Stachowski, construction manager for Springland Associates of New York, developer of the Russell Estates, said chlorine tablets are in water lines. However, the tablets were not being used in this project, he said.
The construction manager also said he had "no idea" why the man was inside the storage trailer.
Chief Hagadorn later also said chlorine tablets are used t purge water lines at construction projects.