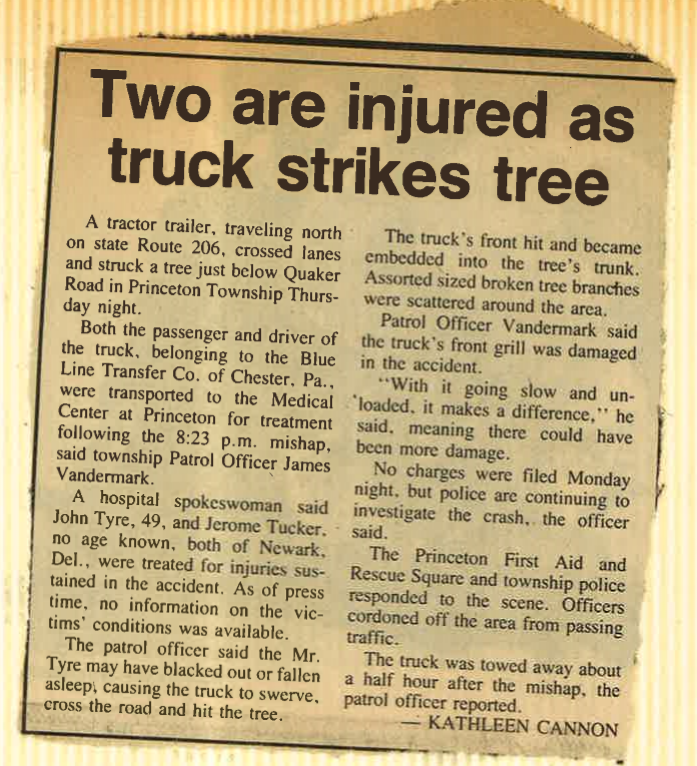 28 February, 1986
Two are injured as truck strike tree
Kathleen Cannon
A tractor-trailer, traveling north on state Route 206, crossed lanes and struck a tree just below Quaker Road in Princeton Township Thursday night.
Both the passenger and driver of the truck, belonging to the Blue Line Transfer Co. of Chester, Pa, were transported to the Medical Center at Princeton for treatment following the 8:23 p.m. mishap, said township Patrol Officer James Vandermark.
A hospital spokeswoman said John Tyre, 49, and Jerome Tucker, no age known, both of Newark, Del., were treated for injuries sustained in the accident. As of press time, no information on the victims' conditions was available.
The patrol officer said that Mr. Tyre may have blacked out or fallen asleep, causing the truck to swerve, cross the road and hit the tree.
The truck's front hit and became embedded into the tree's trunk. Assorted sized broken tree branches were scattered around the area.
Patrol Officer Vandermark said the truck's front grill was damaged in the accident.
"With it going slow and unloaded, it makes a difference," he said, meaning there could have been more damage.
No charges were filed Monday night, but police are continuing to investigate the crash, the officer said.
The Princeton First Aid and Rescue Square and township police responded to the scene. Officers cordoned off the area from passing traffic.
The truck was towed away about a half-hour after the mishap, the patrol officer reported.