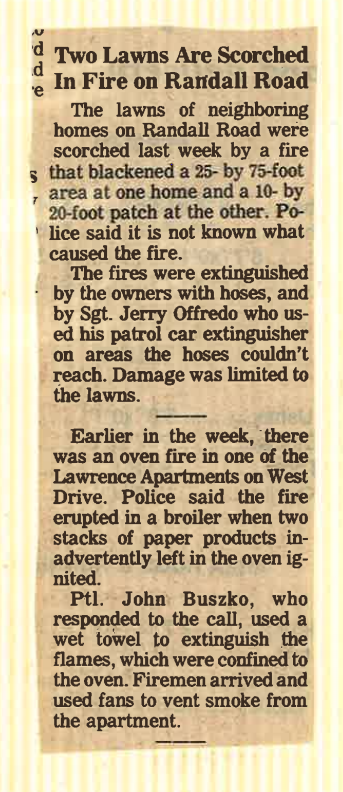 18 March, 1988 (~estimated)
Two Lawns Are Scorched In Fire on Randall Road
The lawns of neighboring homes on Randall Road were scorched last week by a fire that blackened a 25- by 75-foot area at one home and a 10- by 20-foot patch at the other. Police said it is not known what caused the fire.
The fires were extinguished by the owners with hoses, and by Sgt. Jerry Offredo who us-ed his patrol car extinguisher on areas the hoses couldn't reach. Damage was limited to the lawns.
Earlier in the week, there was an oven fire in one of the Lawrence Apartments on West Drive. Police said the fire erupted in a broiler when two stacks of paper products inadvertently left in the oven ignited.
Ptl. John Buszko, who responded to the call, used a wet towel to extinguish the flames, which were confined to the oven. Firemen arrived and used fans to vent smoke from the apartment.