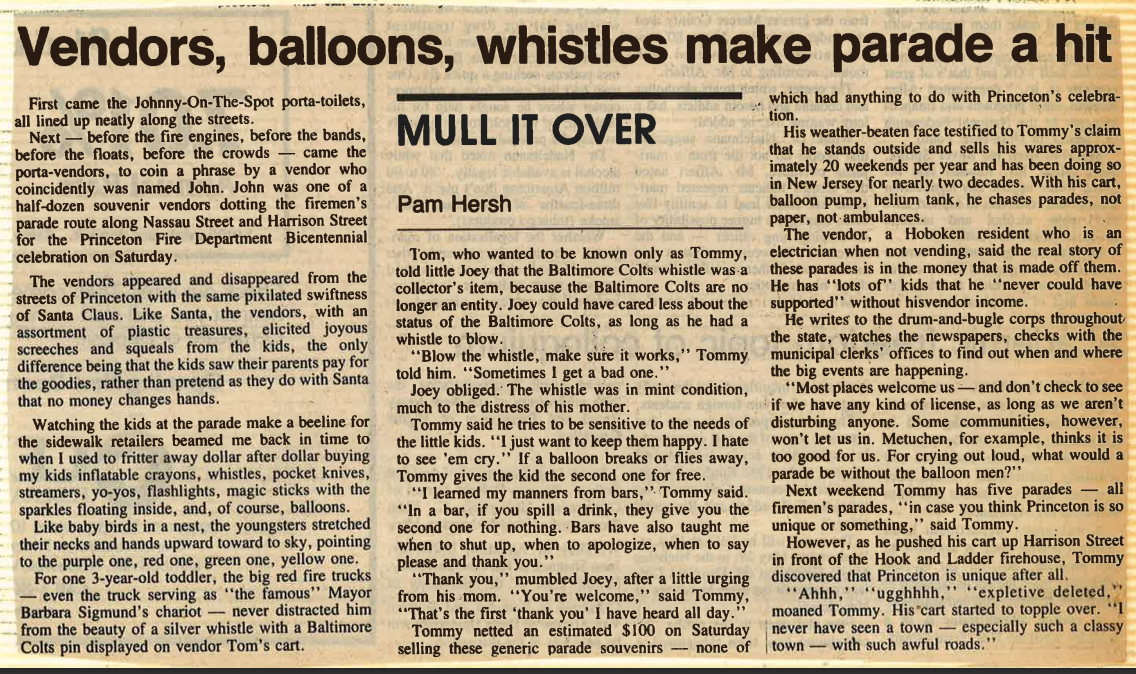 10 May, 1988
Vendors, ballon, whistles make parade a hit
Pam Hersh
First came the Johnny-On-The-Spot porta-toilets, all lined up neatly along the streets.
Next — before the fire engines, before the bands, before the floats, before the crowds — came the porta-vendors, to coin a phrase by a vendor who coincidentally was named John. John was one of a half-dozen souvenir vendors dotting the firemen's parade route along Nassau Street and Harrison Street for the Princeton Fire Department Bicentennial celebration on Saturday.
The vendors appeared and disappeared from the streets of Princeton with the same pixelated swiftness of Santa Claus. Like Santa, the vendors, with an assortment of plastic treasures, elicited joyous screeches and squeals from the kids, the only difference being that the kids saw their parents pay for the goodies, rather than pretend as they do with Santa that no money changes hands.
Watching the kids at the parade make a beeline for the sidewalk retailers beamed me back in time to when I used to fritter away dollar after dollar buying my kids inflatable crayons, whistles, pocket knives, streamers, yo-yos, flashlights, magic sticks with the sparkles floating inside, and, of course, balloons.
Like baby birds in a nest, the youngsters stretched their necks and hands upward toward to sky, pointing to the purple one, red one, green one, yellow one.
For one 3-year-old toddler, the big red fire trucks — even the truck serving as "the famous" Mayor Barbara Sigmund's chariot — never distracted him from the beauty of a silver whistle with a Baltimore Colts pin displayed on vendor Tom's cart.
Tom, who wanted to be known only as Tommy, told little key that the Baltimore Colts whistle was a collector's item, because the Baltimore Colts are no longer an entity, key could have cared less about the status of the Baltimore Colts, as long as he had a whistle to blow.
"Blow the whistle, make sure it works," Tommy told him. "Sometimes I get a bad one."
Joey obliged. The whistle was in mint condition, much to the distress of his mother.
Tommy said he tries to be sensitive to the needs of the little kids. "I just want to keep them happy. I hate to see 'em cry." If a balloon breaks or flies away, Tommy gives the kid the second one for free.
"I learned my manners from busy". Tommy said. "In a bar, if you spill a drink, they give you the second one for nothing. Bars have also taught we when to shut up, when to apologize, when to say please and thank you." "Thank you," mumbled Joey, after a little urging from his mom. "You're welcome," said Tommy, "That's the first 'thank you' I have heard all day."
Tommy netted an estimated $100 on Saturday selling these generic parade souvenirs — none of which had anything to do with Princeton's celebration.
His weather-beaten face testified to Tommy's claim that he stands outside and sells his wares approximately 20 weekends per year and has been doing so in New Jersey for nearly two decades. With his cart, balloon pump, helium tank, he chases parades, not paper, not ambulances.
The vendor, a Hoboken resident who is an electrician when not vending, said the real story of these parades is in the money that is made off them. He has "lots of ' kids that he "never could have supported" without his vendor income.
He writes to the drum-and-bugle corps throughout the state, watches the newspapers, checks with the municipal clerks' offices to find out when and where the big events are happening.
"Most places welcome us— and don't check to see  if we have any kind of license, as long as we aren't disturbing anyone. Some communities, however, won't let as in. Metuchen, for example, thinks it is too good for us. For crying out loud, what would a parade be without the balloon men?"
Next weekend Tommy has five parades — all firemen's parades, "in case you think Princeton is so unique or something," said Tommy.
However, as he pushed his cart up Harrison Street in front of the Hook and Ladder firehouse, Tommy discovered that Princeton is unique after all.
"Ahhh," "ugghhhh," "expletive deleted," moaned Tommy. Hircart started to topple over. "I never have seen a town — especially such a classy town — with such awful roads."
---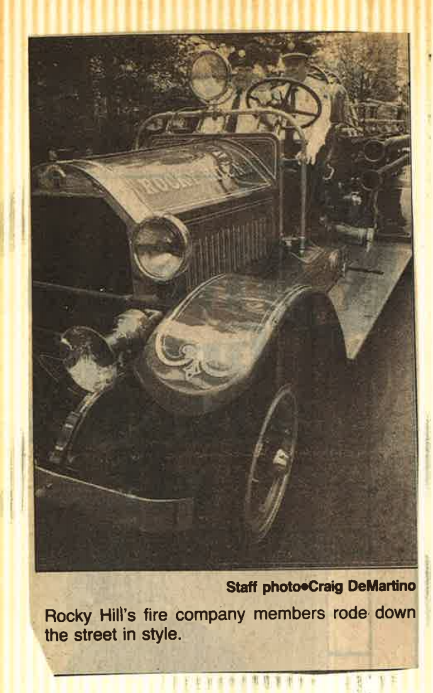 Staff photo • Craig DeMartino
Rocky Hill's fire company members rode down the street in style
---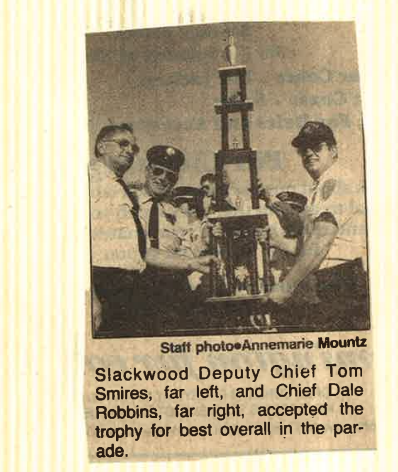 Staff photo • Annemarie Mountz
Slackwood Deputy Chief Tom Smires, far left, and Chief Dale Robbins, far right, accepted the trophy for best overall in the parade.
---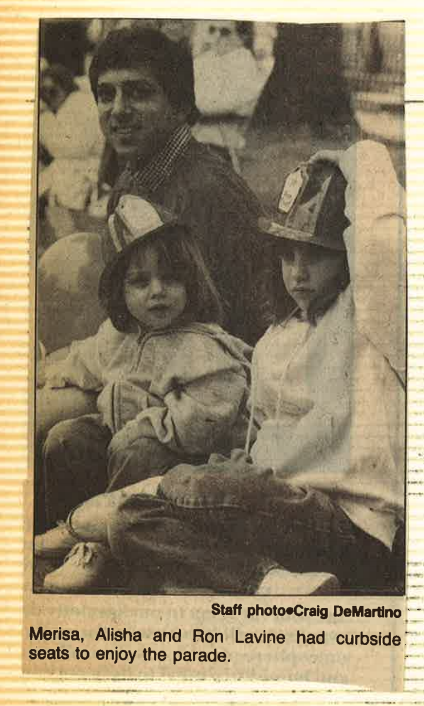 Staff photo • Craig DeMartino
Merisa, Alisha and ROn Lavine had curbside seats to enjoy the parade.