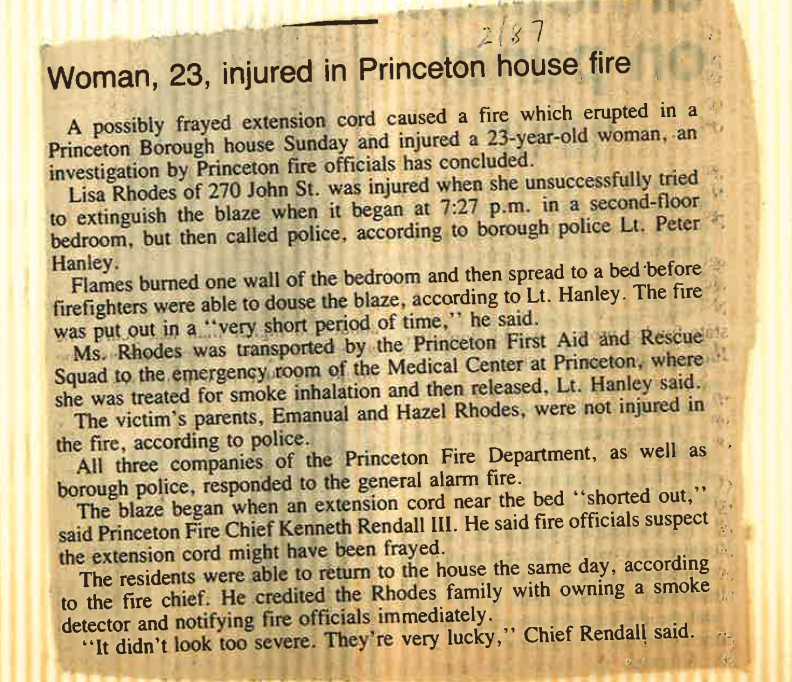 4 February, 1987 (~estimated)
Woman, 23, injured in Princeton house fire
A possibly frayed extension cord caused a fire which erupted in a Princeton Borough house Sunday and injured a 23-year-old woman. an investigation by Princeton fire officials has concluded.
Lisa Rhodes of 270 John SE. was injured when she unsuccessfully tried to extinguish the blaze when it began at 7:27 p.m. in a second-floor bedroom. but then called police. according to borough police U. Peter Hanley.
Flames burned one wall of the bedroom and then spread to a bed 'before firefighters were able to douse the blaze. according to Lt. Hanley. The fire was put. out in a "very short period of time," he said.
Ms. Rhodes was transported by the Princeton First Aid and Rescue Squad to the emergency room of the Medical Center at Princeton, where she was treated for smoke inhalation and then released, Lt. Hanky said.
The victim's parents, Emanual and Hazel Rhodes, were not injured in the fire, according to police.
All three companies of the Princeton Fire Department, as well as borough police, responded to the general alarm fire.
The blaze began when an extension cord near the bed "shorted out," said Princeton Fire Chief Kenneth Kendall Ill. He said fire officials suspect the extension cord might have been frayed.
The residents were able to return to the house the same day, according to the fire chief. He credited the Rhodes family with owning a smoke detector and notifying fire officials immediately.
"It didn't look too severe. They're very lucky," Chief Rendall said.