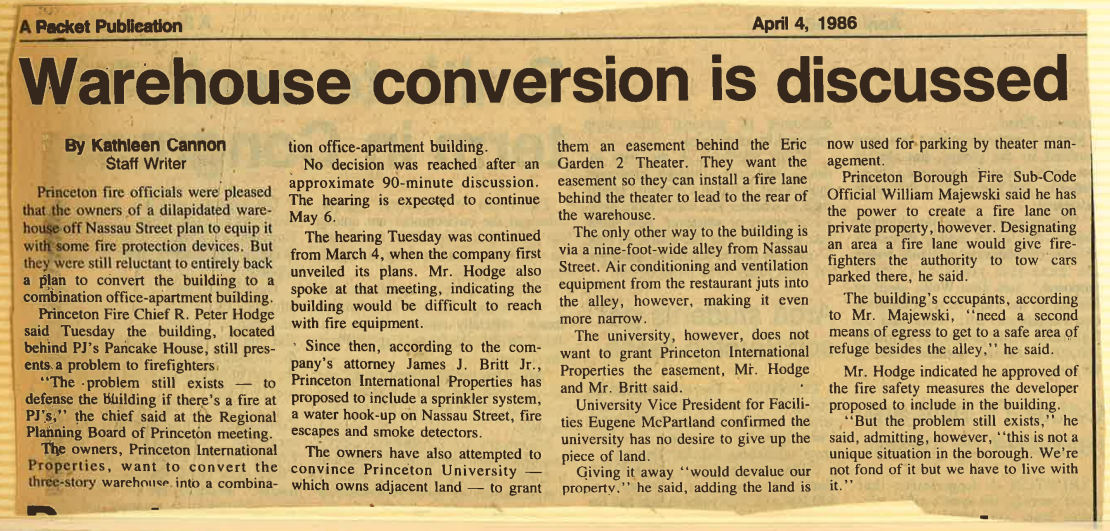 A Packet Publication
4 April, 1986
Warehouse conversion is discussed
By Kathleen Cannon
Staff Writer
Princeton fire officials were pleased that the owners of a dilapidated warehouse off Nassau Street plan to equip it with some fire protection devices. But they were still reluctant to entirely hack a plan to convert the building to a combination office-apartment building.
Princeton Fire Chief R. Peter Hodge said Tuesday the building, located behind PJ's Pancake House, still presents a problem to firefighters.
"The problem still exists — to defense the building if there's a fire at PJ's," the chief said at the Regional Planning Board of Princeton meeting.
The owners, Princeton International Properties, want to convert the three-story warehouse into a combination office-apartment building.
No decision was reached after an approximate 90-minute discussion.
The hearing is expected to continue May 6. The hearing Tuesday was continued from March 4, when the company first unveiled its plans. Mr. Hodge also spoke at that meeting, indicating the building would be difficult to reach with fire equipment.
Since then, according to the company's attorney James J. Britt Jr., Princeton International Properties has proposed to include a sprinkler system, a water hook-up on Nassau Street, fire escapes, and smoke detectors.
The owners have also attempted to convince Princeton University —which owns adjacent land – to grant them an easement behind the Eric Garden 2 Theater. They want the easement so they can install a fire lane behind the theater to lead to the rear of the warehouse.
The only other way to the building is via a nine-foot-wide alley from Nassau Street. Air conditioning and ventilation equipment from the restaurant juts into the alley, however, making it even more narrow.
The university, however, does not want to grant Princeton International Properties the easement, Mr. Hodge and Mr. Britt said.
University Vice President for Facilities Eugene McPartland confirmed the university has no desire to give up the piece of land.
Giving it away "would devalue our property," he said, adding the land is now used for parking by theater management.
Princeton Borough Fire Sub-Code Official William Majewski said he has the power to create a fire lane on private property, however, designating an area a fire lane would give firefighters the authority to tow cars parked there, he said.
The building's occupants, according to Mr. Majewski, "need a second means of egress to get to a safe area of refuge besides the alley," he said.
Mr. Hodge indicated he approved of the fire safety measures the developer proposed to include in the building.
"But the problem still exists," he said, admitting, however, "this is not a unique situation in the borough. We're not fond of it but we have to live with it."