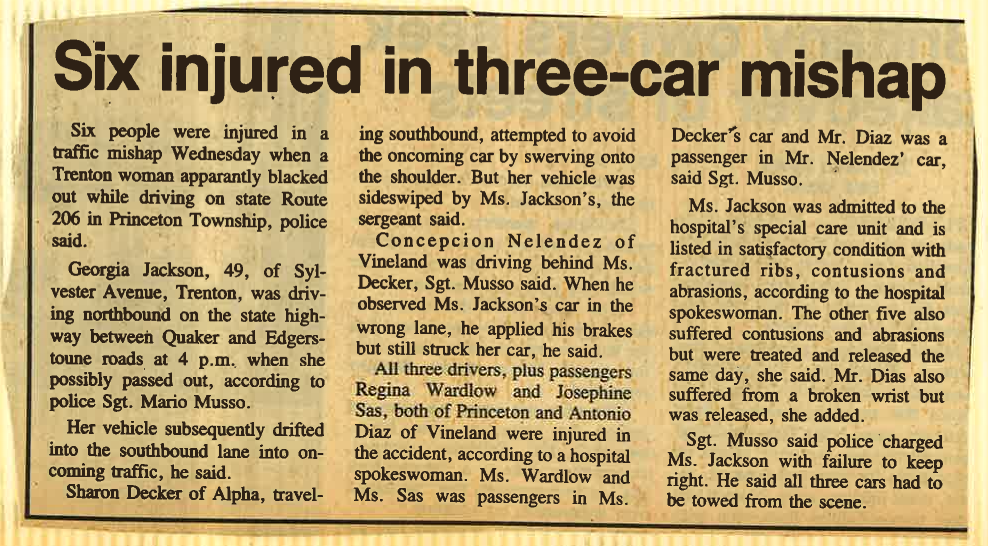 4 May, 1986 (~estimated)
Six injured in three-car mishap 
Six people were injured in a traffic mishap Wednesday when a Trenton woman apparently blacked out while driving on state Route 206 in Princeton Township, police said. 
Georgia Jackson, 49, of Sylvester Avenue, Trenton, was driving northbound on the state highway between Quaker and Edgerstoune roads at 4 p.m. when she possibly passed out, according to police Sgt. Mario Musso. 
Her vehicle subsequently drifted into the southbound lane into oncoming traffic, he said. 
Sharon Decker of Alpha, traveling southbound, attempted to avoid the oncoming car by swerving onto the shoulder. But her vehicle was sideswiped by Ms. Jackson's, the sergeant said. 
Concepcion Nelendcz of Vineland was driving behind Ms. Decker, Sgt. Musso said. When he observed Ms. Jackson's car in the wrong lane, he applied his brakes but still struck her car, he said.
All three drivers, plus passengers Regina Wardlow and Josephine Sas, both of Princeton and Antonio Diaz of Vineland were injured in the accident, according to a hospital spokeswoman. Ms. Wardlow and Ms. Sas were passengers in Ms. Decker's car and Mr. Diaz was a passenger in Mr. Nelendez' car, said Sgt. Musso. 
Ms. Jackson was admitted to the hospital's special care unit and is listed in satisfactory condition with fractured ribs, contusions, and abrasions, according to the hospital spokeswoman. The other five also suffered contusions and abrasions but were treated and released the same day, she said. Mr. Dias also suffered from a broken wrist but was released, she added. 
Sgt. Musso said police charged Ms. Jackson with failure to keep right. He said all three cars had to be towed from the scene.