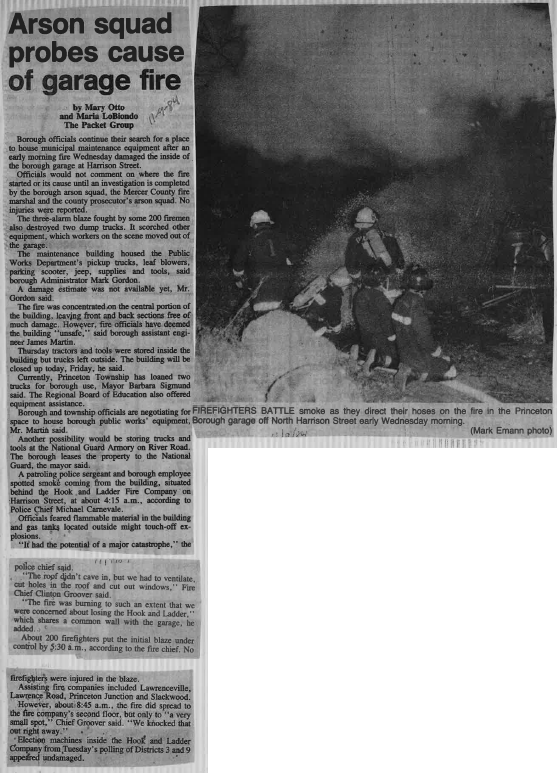 Princeton Packet
9 November, 1984
Arson Squad Probes Garage Fire
Authors: Mary Otto and Maria LoBiondo
Borough officials continue their search for a place to house municipal maintenance equipment after an early morning fire Wednesday damaged the inside of the borough garage at Harrison St.
Officials would not comment on where the fire started or its cause until an investigation is completed by the borough arts and squad, the Mercer County fire Marshall and the County prosecutor's arson squad. No injuries were reported.
The three-alarm blaze fought by some 200 firemen also destroyed two dump trucks. It scorched other equipment, which workers on the scene moved out of the garage.
The maintenance building housed the Public Works Department's pickup trucks, leaf blowers, parking scooter, Jeep, supplies and tools, said borough Administrator Mark Gordon.
The fire was concentrated on the central portion of the building, leaving front and back sections free of much damage. However, fire officials have deemed the building "unsafe, "said borough assistant engineer James Martin.
Thursday tractors and tools were stored inside the building but trucks left outside. The building will be closed up today, Friday, he said.
Currently, Princeton Township has loaned two trucks for borrow use, Mayor Barbara Sigmund said. The Regional Board of Education also offered equipment assistance.
Another possibility would be storing trucks and tools at the National Guard Armory on River Road. The borough leases the property to the National Guard, the mayor said.
A patrolling police sergeant in borough employee spotted smoke coming from the building, situated behind the hook and ladder fire company on Harrison St, at about 4:15 AM, according to police chief Michael Carmevale.
Officials feared flammable material in the building and gas tanks located outside my touch off explosions.
"It had the potential of a major of a major catastrophe E," the police chief said,
"The roof didn't cave in, but we had to ventilate out holes in the roof and cut out windows," Fire Chief Clinton Groover said.
"The fire was burning to such an extent that we were concerned about losing to Hook and Ladder," which shares a common wall with the garage, he added.
About 200 firefighters put the initial blaze under control by 5:30 AM, according to the Fire Chief. No firefighters were injured into place.
Assisting fire companies included Lawrenceville, Lawrence Rd, Princeton junction Ann slack would. However, about 8:45 AM, the fire did spread to the fire companies 2nd floor but only to "a very small spot," chief Grover said. "we knocked that out right away."
Election machines inside the Hook and Ladder company from Tuesdays polling on district 3 and 9 appeared undamaged.