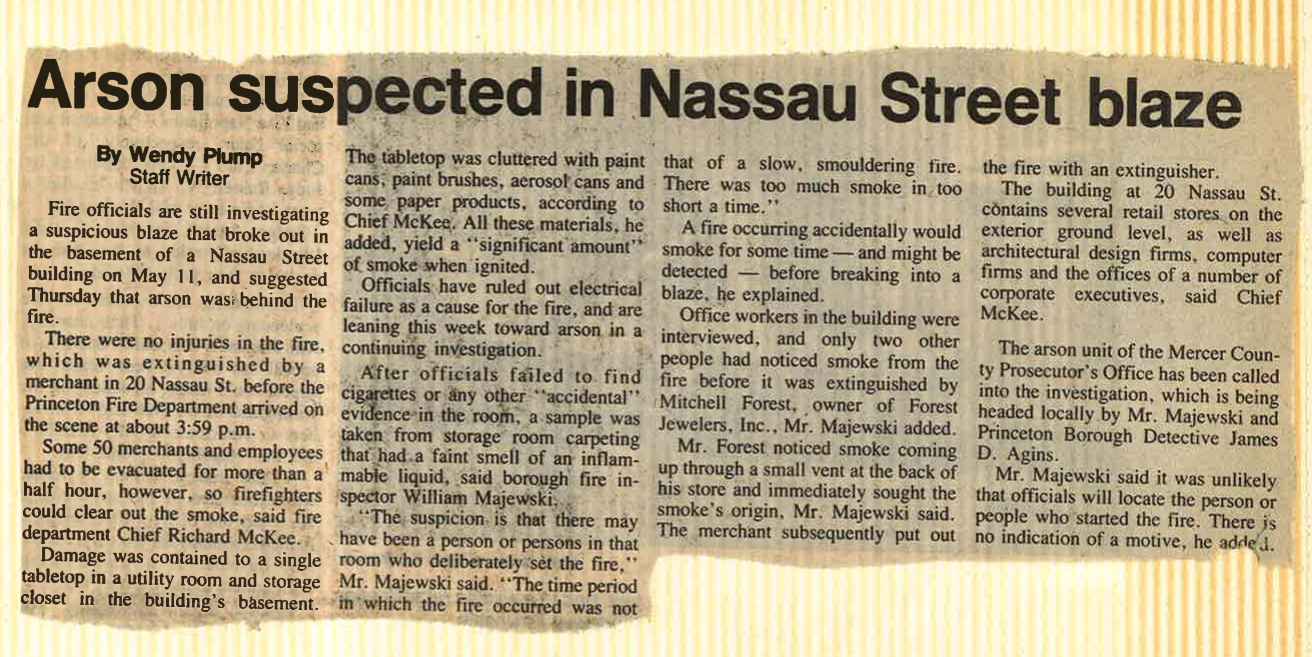 20 May, 1988
Arson suspected in Nassau Street blaze
By Wendy Plump
Staff Writer
Fire officials are still investigating a suspicious blaze that broke out in the basement of a Nassau Street building on May 11, and suggested Thursday that arson was behind the fire.
There were no injuries in the fire which was extinguished by a merchant in 20 Nassau St. before the Princeton Fire Department arrived on the scene at about 3:59 p.m.
Some 50 merchants and employees had to be evacuated for mom than a half hour, however, so firefighters could clear out the smoke, said fire department Chief Richard McKee.
Damage was contained to a single tabletop in a utility room and storage closet in the building's basement.
The tabletop was cluttered with paint cans, paint brushes, aerosol cans and some paper products, according to Chief McKee. All these materials, he added, yield a "significant amount" of smoke when ignited.
Officials have ruled out electrical failure as a cause for the fire, and are leaning this week toward areson in a continuing investigation.
After officials failed to find cigarettes or any other "accidental" evidence in the room, a sample was taken from storage room carpeting that has a faint smell of an inflammable liquid, said borough fire inspector William Majewski.
"The suspicion is that there may have been a person or persons in that room who deliberately set the fire," Mr.Majew