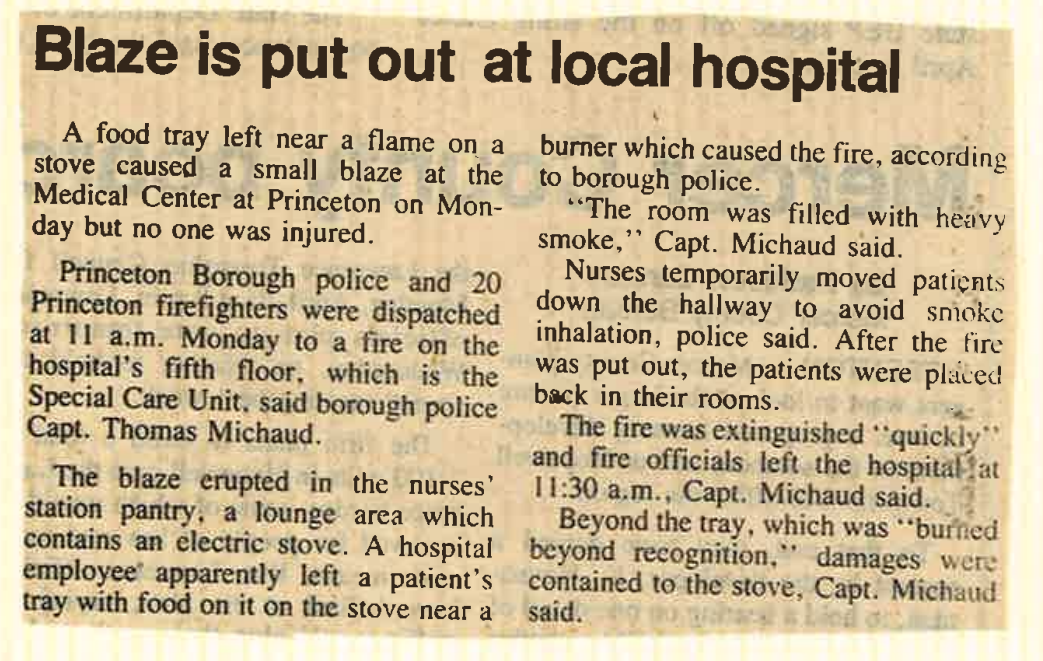 15 April, 1987 (~estimated)
Blaze is put out at local hospital
A food tray left near a flame on a stove caused a small blaze at the Medical Center at Princeton on Monday but no one was injured.
Princeton Borough police and 20 Princeton firefighters were dispatched at 11 a.m. Monday to a fire on the hospital's fifth floor, which is the Special Care Unit, said borough police Capt. Thomas Michaud.
The blaze erupted in the nurses' station pantry, a lounge area which contains an electric stove. A hospital employee apparently left a patient's tray with food on it on the stove near a burner which caused the fire, according to borough police.
"The room was filled with heavy smoke," Capt. Michaud said.
Nurses temporarily moved patients down the hallway to avoid smoke inhalation, police said. After the fire was put out, the patients were placed back in their rooms.
The fire was extinguished "quickly" and fire officials left the hospital at 11:30 a.m., Capt. Michaud said.
Beyond the tray, which was "burned beyond recognition." damages  contained to the stove, Capt. Michaud said.