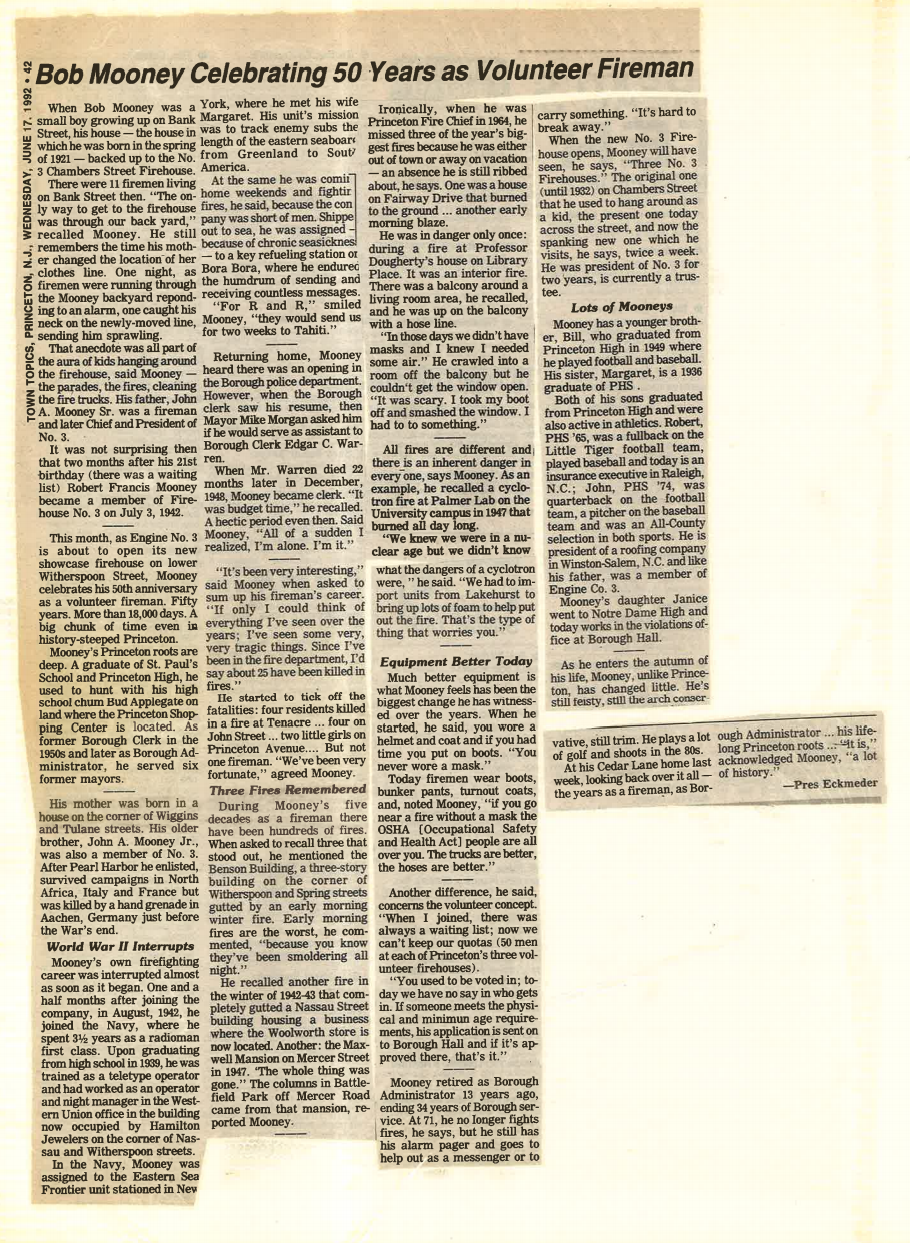 Town Topics
17 June, 1992
Bob Mooney Celebrating 50 Years as Volunteer Fireman
Pres Eckmeder
When Bob Mooney was a : small boy growing up on Bank Street, his house — the house in which be was born in the spring of 1921— backed up to the No. 3 Chambers Street Firehouse.
There were 11 firemen living t on Bank Street then. "The only way to get to the firehouse was through our back yard," recalled Mooney. He still remembers the time his mother changed the location of her clothes line. One night, as firemen were running through the Mooney backyard responding to an alarm, one caught his neck on the newly-moved line, sending him sprawling.
That anecdote was all part of the aura of kids hanging around 3 the firehouse, said Mooney — the parades, the fires, droning the fire trucks. His father, John A. Mooney Sr. was a fireman and later Chief and President of No. 3.
It was not surprising then that two months after his 21st birthday (there was a waiting list) Robert Francis Mooney became a member of Firehouse No. 3 on July 3, 1942.
This month, as Engine No. 3 is about to open its new showcase firehouse on lower Witherspoon Street, Mooney celebrates his 50th anniversary as a volunteer fireman. Fifty years. More than 18,000 days. A big chunk of time even in history-steeped Princeton.
Mooney's Princeton roots are deep. A graduate of St. Paul's School and Princeton High, he used to hunt with his high school chum Bud Applegate on land where the Princeton Shopping Center is located. As former Borough Clerk in the 1950s and later as Borough Administrator, he served six former mayors.
His mother was born in a house on the corner of Wiggins and Tulane streets. His older brother, John A. Mooney Jr., was also a member of No. 3. After Pearl Harbor he enlisted, survived campaigns in North Africa, Italy, and France but was killed by a hand grenade in Aachen, Germany just before the War's end.
World War II Interrupts
Mooney's own firefighting career was interrupted almost as soon as it began. One and a half months after joining the company, in August, 1942, he joined the Navy, where he spent 31/2 years as a radioman first class. Upon graduating from high school in 1939, he was trained as a teletype operator and had worked as an operator and night manager in the West-ern Union office in the building now occupied by Hamilton Jewelers on the corner of Nassau and Witherspoon streets.
In the Navy, Mooney was assigned to the Eastern Sea Frontier unit stationed in New York, where he met his wife Margaret. His unit's mission was to track enemy subs the length of the eastern seaboard from Greenland to South America.
At the same he was coming home weekends and fighting fires, he said, because the company was short of men. Shipped out to sea, he was assigned — because of chronic seasickness — to a key refueling station on Bora Bora, where he endured the humdrum of sending and receiving messages.
"For R and R," smiled Mooney, "they would send us for two weeks to Tahiti."
Returning home, Mooney heard there was an opening in the Borough police department. However, when the Borough clerk saw his resume, then Mayor Mike Morgan asked him if he would serve as assistant to Borough Clerk Edgar C. Warren.
When Mr. Warren died 22 months later in December, 1948, Mooney became clerk. "It was budget time," he recalled. A hectic period even then. Said Mooney, "All of a sudden I realized, I'm alone. I'm it."
"It's been very interesting" said Mooney when asked to sum up his firemen's career. "If only I could think of everything I've seen some very, very tragic things. Since I've been in the fire department, I'd say about 25 have been killed in fires."
He started to tick off the fatalities: four residents killed in a fire at Tenacre… four on John Street… two little girls on Princeton Avenue…. But not one fireman. "We've been very fortunate," agreed Mooney.
Three Fires Remembered
During Mooney's five decades as a fireman there have been hundreds of fires. When asked to recall three that stood out, he mentioned the Benson Building, a three-story building on the corner of Witherspoon and Spring streets gutted by an early morning winter fire. Early morning fires are the worst, he commented. "because you know they've been smoldering all night."
He recalled another fire in the winter of 1942-43 that completely gutted a Nassau Street building housing a business where the Woolworth store is now located. Another: the Maxwell Mansion on Mercer Street in 1947. 'The whole thing was gone." The columns in Battlefield Park off Mercer Road came from that mansion, reported Mooney.
Ironically, when he was Princeton Fire Chief in 1964, he missed three of the year's big-gest fires because he was either out of town or away on vacation — an absence he is still ribbed about, he says. One was a house on Fairway Drive that burned to the ground … another early morning blaze.
He was in danger only once: during a fire at Professor Dougherty's house on Library Place. It was an interior fire. There was a balcony around a living room area, he recalled, and he was up on the balcony with a hose line.
"In those days we didn't have masks and I knew I needed some air." He crawled into a room off the balcony but he couldn't get the window open. "It was scary. I took my boot off and smashed the window. I had to to something."
All fires are different and there is an inherent danger in every one, says Mooney. As an example, he recalled a cyclotron fire at Palmer Lab on the University campus in 1947 that burned all day long.
"We knew we were in a nuclear age but we didn't know what the dangers of a cyclotron were," he said. "We had to import units from Lakehurst to bring up lots of foam to help put out the fire. That's the type of thing that worries you."
Equipment Better Today
Much better equipment is what Mooney feels has been the biggest change he has witnessed over the years. When he started, he said, you wore a helmet and coat and if you had time you put on boots. "You never wore a mask."
Today firemen wear boots, bunker pants, turnout coats, and, noted Mooney, "if you go near a fire without a mask the OSHA [Occupational Safety and Health Act] people are all over you. The trucks are better, the hoses are better."
Another difference, he said, concerns the volunteer concept. "When I joined, there was always a waiting list; now we can't keep our quotas (50 men at each of Princeton's three volunteer firehouses). "You used to be voted in; to-day we have no say in who gets in. If someone meets the physical and minimum age requirements, his application is sent on to Borough Hall and if it's approved there, that's it."
Mooney retired as Borough Administrator 13 years ago, ending 34 years of Borough service. At 71, he no longer fights fires, he says, but he still has his alarm pager and goes to help out as a messenger or to carry something. "It's hard to break away."
When the new No. 3 Firehouse opens, Mooney will have seen, he says, "Three No. 3 Firehouses." The original one (until 1932) on Chambers Street that he used to hang around as a kid, the present one today across the street, and now the spanking new one which he visits, he says, twice a week. He was president of No. 3 for two years, is currently a trustee.
Lots of Mooneys
Mooney has a younger brother, Bill, who graduated from Princeton High in 1949 where he played football and baseball. His sister, Margaret, is a 1936 graduate of PHS.
Both of his sons graduated from Princeton High and were also active in athletics. Robert, PHS '65, was a fullback on the Little Tiger football team, played baseball and today is an insurance executives in Raleigh, N.C; John, PHS '74 was quarterback on the football team and was an All-County selection in both sports. He is president of a roofing company in Winston-Salem, N.C. and like his father, was a member of Engine Co. 3.
Mooney's daughter Janice went to Notre Dame High and today works in the violations office at Borough Hall.
As he enters the autumn of his life, Mooney, unlike Princeton, has changed little. He's still feisty, still the arch conservative, still trim. He plays a lot of golf and shoots in the 80s.
At his Cedar Lane home last week, looking back over it all — the years as a fireman, as Borough Administrator… his lifelong Princeton roots… "it is" acknowledged Mooney, "a lot of history."
---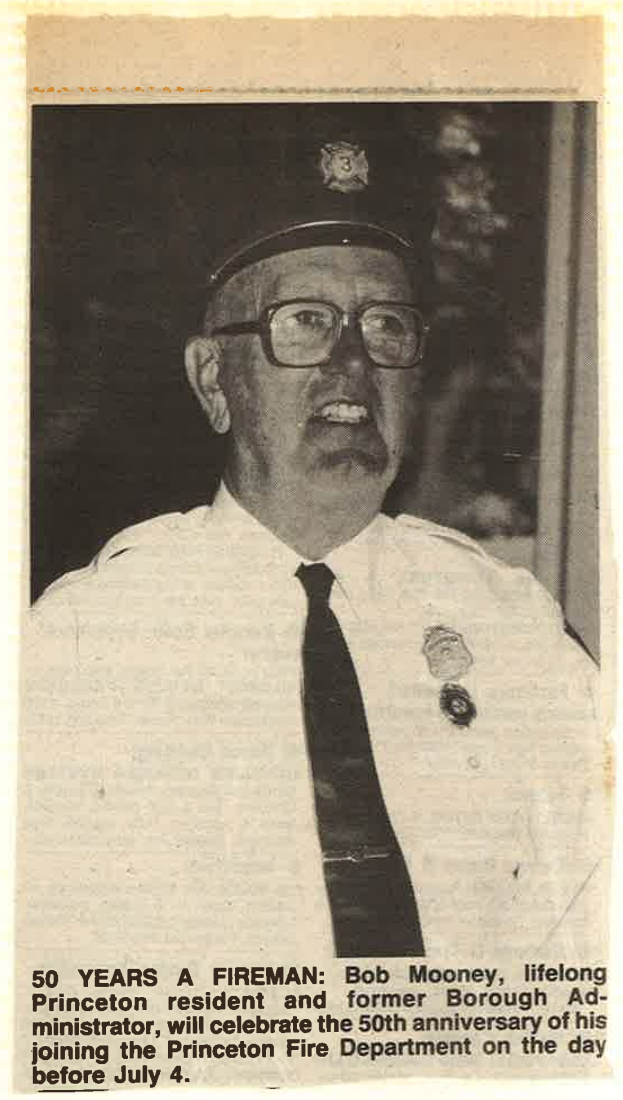 50 YEARS A FIREMAN: Bob Mooney, lifelong Princeton resident and former Borough Administrator, will celebrate the 50th anniversary of his joining the Princeton Fire Department on the day before July 4.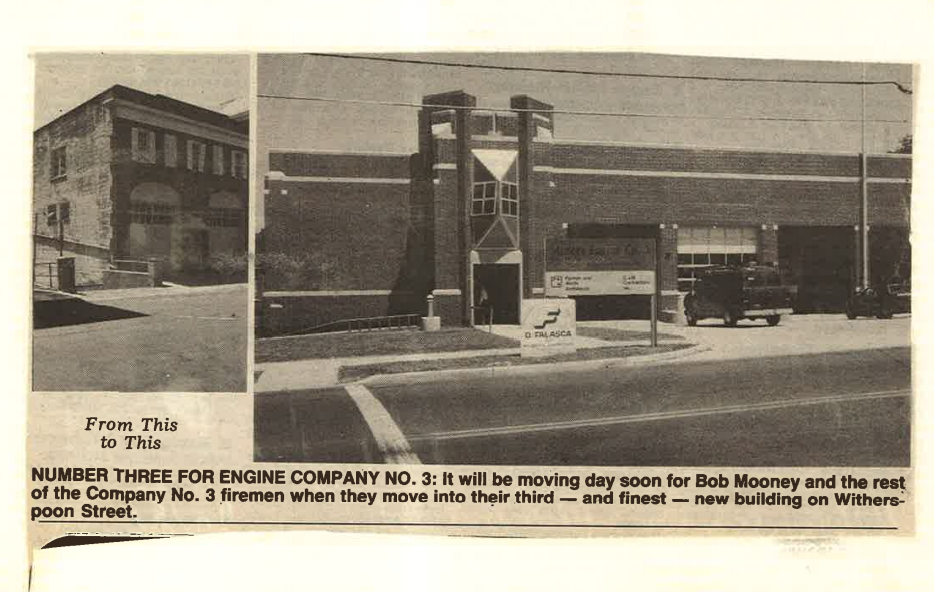 NUMBER THREE FOR ENGINE COMPANY NO. 3: It will be moving day soon for Bob Mooney and the rest of the Company No. 3 firemen when they move into thier third — and finest — new building on Witherspoon Street.