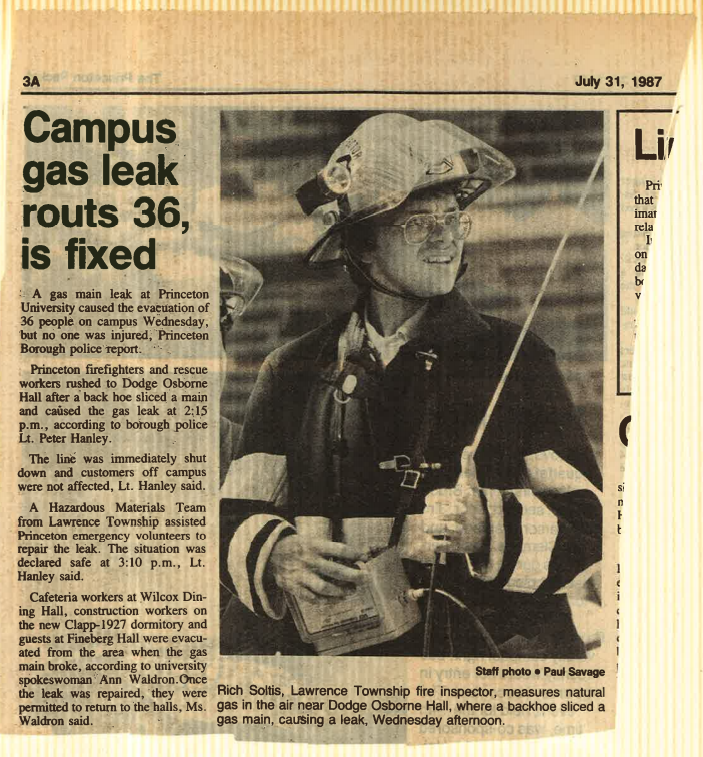 Staff photo • Paul Savage
Rich Soltis, Lawrence Township fire inspector, measures natural gas in the air near Dodge Osborne Hall, where a backhoe sliced a gas main, causing a leak, Wednesday afternoon.
Princeton Packet
July 31, 1987
Campus gas leak routs 36, is fixed
A gas main leak at Princeton University caused the evacuation of 36 people on campus Wednesday, but no one was injured, Princeton Borough police report.
Princeton firefighters and rescue workers rushed to Dodge Osborne Hall after a back hoc sliced a main and caused the gas leak at 2:15 p.m., according to borough police Lt. Peter Hanley.
The line was immediately shut down and customers off campus were not affected, Lt. Hanley said.
A Hazardous Materials Team from Lawrence Township assisted Princeton emergency volunteers to repair the leak. The situation was declared safe at 3:10 p.m., Lt. Hanky said.
Cafeteria workers at Wilcox Dining Hall, construction workers on the new Clapp-1927 dormitory and guests at Feinberg Hall were evacuated from the area when the gas main broke, according to university spokeswoman Ann Waldron.Once the leak was repaired, they were permitted to return to the halls. Ms. Waldron said.