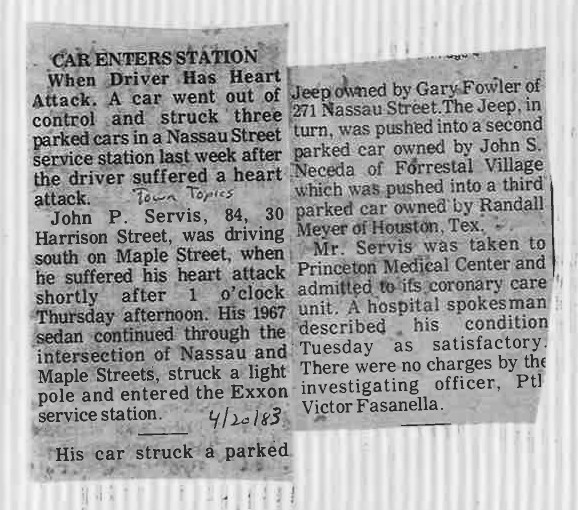 Town Topics
20 April 1983
Car Enters Station
When Driver Has Heart Attack. A car went out of control and struck three parked cars in a Nassau Street service station last week after the driver suffered a heart attack.
John P. Servis, 84, 30 Harrison Street, was driving south on Maple Street, when he suffered his heart attack shortly after 1 o'clock Thursday afternoon. His 1967 sedan continued through the intersection of Nassau and Maple Streets, struck a light pole and entered the Exxon Service station.
His car struck a parked Jeep owned by Gary Fowler of 271 Nassau Street. The Jeep, in turn, was pushed into a second parked car owned by John S. Neceda of Forrestal Village which was pushed into a third parked car owned Randall Meyer of Houston, Tex.
Mr. Servis was taken to Princeton Medical Center and admitted to its coronary care unit. A hospital spokesman described his condition Tuesday as satisfactory. There were no charges by the investigating officer, Ptl Victor Fasanella.