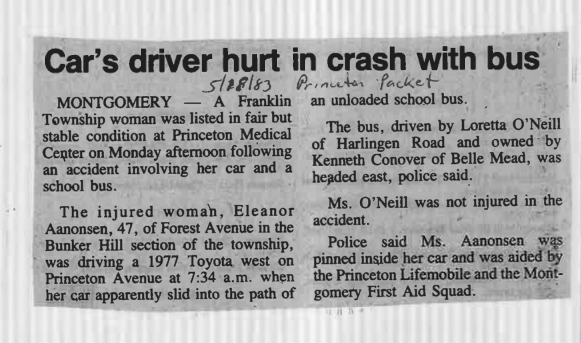 Princeton Packet
18 May 1983
Car's driver hurt in crash with bus
MONTGOMERY — A Franklin Township woman was listed in fair but stable condition at Princeton Medical Center on Monday afternoon following an accident involving her car and a school bus.
The injured woman, Eleanor Aanonsen, 47, of Forest Avenue in the Bunker Hill section of the township, was driving a 1977 Toyota west on Princeton Avenue at 7:34 a.m. when her car apparently slid into the path of
an unloaded school bus.
The bus, driven by Loretta O'Neill of Harlingen Road and owned by Kenneth Conover of Belle Mead, was headed east, police said.
Ms. O'Neill was not injured in the accident.
Police said Ms. Aanonsen was pinned inside her car and was aided by the Princeton Lifemobile and the Montgomery First Aid Squad.