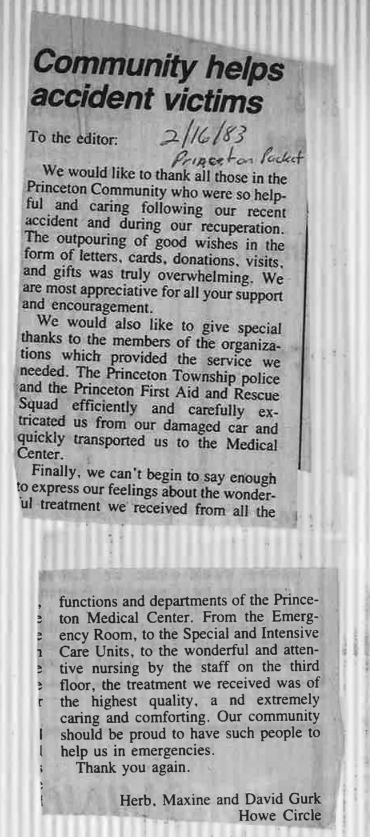 Princeton Packet
16 February 1983
Community helps accident victims
To the editor:
We would like to thank all those in the Princeton Community who were so helpful and caring following our recent accident and during our recuperation. The outpouring of good wishes in the form of letters, cards, donations, visits, and gifts was truly overwhelming. We are most appreciative for all your support and encouragement.
We would also like to give special thanks to the members of the organizations which provided the service we needed. The Princeton Township police and the Princeton First Aid and Rescue Squad efficiently and carefully extricated us from our damaged car and quickly transported us to the Medical Center.
Finally, we can't begin to say enough to express our feelings about the wonderful treatment we received from all the functions and departments of the Prince-
ton Medical Center from the Emergency Room, to the Special and Intensive
Care Units, to the wonderful and attentive nursing by the staff on the third
floor, the treatment we received was of the highest quality, and extremely caring and comforting. Our community should be proud to have such people to help us in emergencies.
Thank you again.
Herb, Maxine and David Gurk
Howe Circle