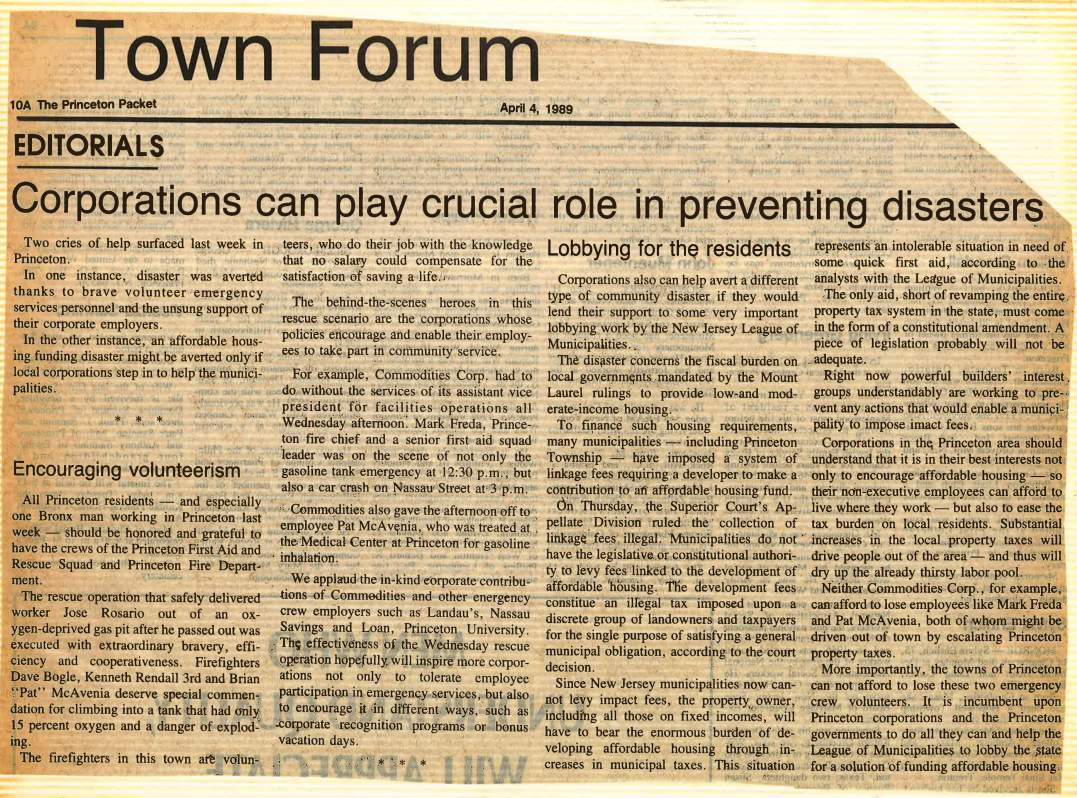 Princeton Packet
4 April, 1989
Corporations can play crucial role in preventing disasters
Two cries of help surfaced last week in Princeton.
In one instance, disaster was averted thanks to brave volunteer emergency services personnel and the unsung support of their corporate employers.
In the other instance, an affordable housing funding disaster might be averted only if local corporations step in to help the municipalities.
* * *
Encouraging volunteerism
All Princeton residents — and especially one Bronx m working in Princeton last week — should be honored and grateful to have the crews of the Princeton First Aid and Rescue Squad and Princeton Fire Department.
The rescue operation that safely delivered worker Jose Rosario out of an oxygen-deprived gas pit after he passed out was executed with extraordinary bravery, efficiency and cooperativeness. Firefighters Dave Bogle, Kenneth Rendall 3rd and Brian "Pat" McAvenia deserve special commendation for climbing into a tank that had only 15 percent oxygen and a danger of exploding.
The firefighters in this town ate volunteers, who do their job with the knowledge that no salary could compensate for the satisfaction of saving a life.
The behind-the-scenes heroes in this rescue scenario are the corporations whose policies encourage and enable their employees to take part in community service.
For example, Commodities Corp. had to do without the services of its assistant vice president for facilities operations all Wednesday afternoon. Mark Freda, Princeton fire chief and a senior first aid squad leader was on the scene of not only the gasoline tank emergency at 12:30 p.m., but also a car crash on Nassau Street at 3 p.m.
Commodities also gave the afternoon off to employee Pat McAvenia, who was treated at the Medical Center at Princeton for gasoline inhalation.
We applaud the in-kind corporate contribution of Commodities and other emergency crew employes such as Landau's Nassau Savings and Loan, Princeton University. The effectiveness of the Wednesday rescue operation hopefully will inspire more corporations not only to tolerate employee participation in emergency services, but also to encourage it in different ways, such as corporate recognition programs or bonus vacation days.
* * *
Lobbying for the residents
Corporations also can help avert a different type of community disaster if they would lend their support to some very important lobbying work by the New Jersey League of Municipalities.
The disaster concerns the fiscal burden on local governments .mandated by the Mount Laurel rulings to provide low-and moderate-income housing.
To finance such housing requirements, many municipalities — including Princeton Township have imposed a system of linkage fees requiring a developer to make a contribution to ail affordable housing fund.
On Thursday, the Superior Court's Appellate Division ruled the collection of linkage fees illegal. Municipalities do not have the legislative or constitutional authority to levy fees linked to the development of affordable housing. The development fees constitute an illegal" tax imposed upon a discrete group of landowners and taxpayers for the single purpose of satisfying a general municipal obligation, according to the court decision.
Since New Jersey municipalities now cannot levy impact fees, the property, owner, induct* all those on fixed incomes, will have to bear the enormous burden of developing affordable housing through increases in municipal taxes. This situation represents an intolerable situation in need of some quick first aid, according to the analysts with the League of Municipalities.
The only aid, short of revamping the entire. property tax system in the state, must come in the form of a constitutional amendment. A piece of legislation probably will not be adequate.
Right now powerful builders' interest groups understandably are working to pre-. vent any actions that would enable a municipality to impose impact fees.
Corporations in the Princeton area should understand that it is in their best interests not only to encourage affordable housing — so their non-executive employees can afford to live where they work — but also to ease the tax burden on local residents. Substantial increases in the local property taxes will drive people out of the area — and thus will dry up the already thirsty labor pool.
Neither Commodities Corp., for example, can afford to lose employees like Mark Freda and Pat McAvenia, both of whom might be driven out of town by escalating Princeton property taxes.
More importantly, the towns of Princeton can not afford to lose these two emergency crew volunteers. It is incumbent upon Princeton corporations and the Princeton governments to do all they can and help the League of Municipalities to lobby the' Nate for a solution' f funding affordable housing.